Joan M. Heil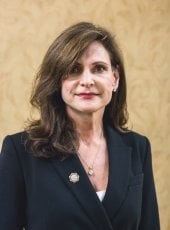 BS Mechanical Engineering 1983
Joan graduated from Michigan Tech in 1983 with a bachelor's degree in mechanical engineering. She subsequently earned her master's degree in mechanical engineering from the California Institute of Technology in 1984.
Post Michigan Tech she was hired as an engineer with the Advance Development Department of Hughes Aircraft in Los Angeles and was given a Top Secret clearance. She designed and developed a working prototype for an all-liquid radar cooling system for what is now known as the F22 Raptor and F35 II Lightening.
After graduation from Caltech, Joan's career shifted towards business. She held sales representative and account executive positions for IBM, and the Mac-Neal Schwendler Corporation (currently MSCsoft). Her engineering degrees coupled with a Top Secret clearance afforded her access to areas of the aerospace industry not typically available to those in her position.
Before her retirement in 2017, Joan held the position of Vice President and effective 2009 became Owner of Micon Inc. Micon provided consulting services to most of the largest utilities in the United States and Canada. Those services included assisting top level executives and Board of Directors in development and execution of business case development for replacement of Financial and CIS legacy systems.
Currently, she is dedicated to philanthropic endeavors. She is a member of the Board of Directors of Big Brothers Big Sisters of Southwest Colorado. She supports humanitarian causes including Childhelp, the International Unbound Program, Food for the Poor, Outreach for Word Hope. She currently has five adopted children from Guatemala and Uganda for whom she provides food and education. Joan is also an advisor SWE Fort Lewis College chapter
She supports Michigan Tech through the funding of the Joan M. Heil Annual Scholarship for a female in the ME-EM Department. She is a member of Michigan Tech's Founders Society through her gifts to the University.
While at Michigan Tech, Joan served as student president of the DHH dorm council. She was president of the student Chapter of SAE leading the organization to achieve Outstanding Chapter. She was also a member of Tau Beta Pi and Omicron Delta. As a note, her sister, Mary Heil, is also an MTU alumna, graduating in 1988 in mechanical engineering.
From the 2018 Presidential Council of Alumnae Induction Ceremony program