James B. Stone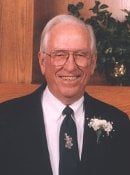 BS Mechanical Engineering 1940
Jim Stone earned his BS in Mechanical Engineering, with honor, from Michigan Tech in 1940 and made his career with the General Foods Corporation. He later attended the Advanced Management Training Program of the Harvard Graduate Business School. He started as a student engineer in the Post Division, Battle Creek.
In 1960, he began work in Jell-O operations and in the Post division where he rose through various positions before being elected a vice president of General Foods Corp. and vice president-corporate engineering in 1967. He retired in 1982 as president of Pacific Operations and vice president of General Foods Corporation.
He was awarded a Board of Trustees Silver Medal in 1969, an honorary Doctor of Engineering degree in 1975 and is a life trustee of the Michigan Tech Board and a member of the Presidents Club.
From 1995 Induction to the Department of Mechanical Engineering-Engineering Mechanics Academy