James Sorenson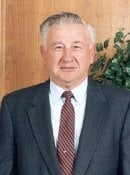 MS Engineering Mechanics 1961
BS Mechanical Engineering 1960
Jim Sorenson earned a B.S. with honor in Mechanical Engineering in 1960 and a M.S. in Engineering Mechanics in 1961, both from Michigan Tech. Following graduation, he joined the staff of Battelle Memorial Institute as a research engineer and spent his career with the organization. After six years with the organization he was promoted to engineering management.
Sorenson held the titles of Section Manager, Manager of the Structures and Mechanics Department, and Manager of the Engineering and Manufacturing Department. In 1988 he was transferred to their corporate offices in Germany as the Deputy General Manager of Battelle Europe. He retired in 1994 as a Senior Vice President.
He has been a member of the Board of Directors of the Ohio Edison Welding Institute and the Ohio Engineering Foundation, the American Society of Mechanical Engineers, the Society for Experimental Stress Analysis, and is currently the president of a local community association. He is a registered professional engineer in the states of Ohio and Oregon.
From 1996 Induction to the Department of Mechanical Engineering-Engineering Mechanics Academy