James L. Reum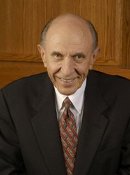 BS Mechanical Engineering 1953
James L. Reum graduated from Michigan Tech in 1953 with a BS in Mechanical Engineering and later earned an MBA from Xavier University in 1965 and his P.E. license from the State of Ohio in 1959. Jim started his career at General Electric (GE) in 1957 after serving in the United States Army Aviation Division as a company commander and as a pilot in Korea. He began as a process engineer at GE and later held various management positions in quality control and manufacturing. He later held the positions of Director of Engine Maintenance at United Airlines in California, Executive Vice President of Engine Operations at Cooper Airomotive (now Avicell Inc) in Texas; and Executive Vice President and General Manager of Chromalloy, Gas Turbine Corp; Oklahoma.
From 1986 to 1990, he was self-employed as a management and engineering consultant to companies in the aerospace industry. In 1990, he joined Jet Avion Corp, a subsidiary of HEICO, as Director of Research and Development. From 1991 to 1998, he served as President of LPI Industries Corporation (subsidiary of HEICO); and as President of Jet Avion Corp from 1996 to 1998. He was Chief Operating Officer of HEICO from 1995 to 1999. Jim became Executive Vice President of HEICO Aerospace from 1993 until he retired from full-time service in 2001. In 2001, HEICO sales were $171.3 million with 1,012 employees. In his "retirement" he works part-time for HEICO Aerospace Holding Corp.
While a student at Michigan Tech, Jim was a member of the varsity golf team and Sigma Rho fraternity. He was also a Cadet Captain in the Army ROTC. In 2001, Jim and Ann established the James and Ann Reum Endowed Scholarship at Michigan Tech to recognize undergraduate students majoring in mechanical engineering. Jim has been active in community and charitable groups such as the Chamber of Commerce and the United Appeal Fund. He and his wife Ann have three grown children and live in Plantation, Florida.
From 2004 Induction to the Department of Mechanical Engineering-Engineering Mechanics Academy