James C. Gerdeen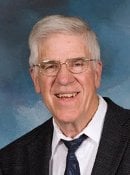 BS Mechanical Engineering 1959
Dr. James C. Gerdeen (BSME '59) retired as Professor and Department of Mechanical Engineering Chair from the University of Colorado - Denver. After graduation, Jim worked in industry before completing his MS in 1962 from Ohio State University and later his PhD from Stanford in 1965, both in mechanical engineering. He returned to Michigan Tech as a faculty member from 1968 to 1989. He received his M. Divinity, Theology, Association of Free Lutheran Seminary, Medicine Lake, MN in 1980 and has served various churches as lay pastor.
Jim continues to teach on-line courses in Industrial Management at Missouri State University and technical English classes at the University of Missouri. Internationally recognized for his research and expertise in pressure vessel design, structural analysis, metal working manufacturing, and mechanical design, he is the author or co-author of 65+ papers and 100+ research reports. His honors and awards include the Michigan Technological University Faculty Research Award (1974), Society of Manufacturing Engineers, Educator of the Year - Western Region (1998), University of Colorado Faculty Service Award (2001), and a Decade of Excellence Award from the University of Colorado Denver (2003).
Jim has served as treasurer of the Michigan Tech Alumni Association Board of Directors from 1970 – 1974. He and his wife Wanda have three children; Lori, Sonya, and Timothy. The Gerdeens reside in Columbia, MO.
From 2011 Induction to the Department of Mechanical Engineering-Engineering Mechanics Academy