Jack G. Real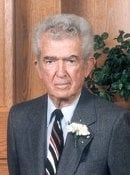 BS Mechanical Engineering 1937
Jack Real began his aviation career two years after graduating from Michigan Tech with a BS in Mechanical Engineering in 1937. He joined Lockheed Aircraft as a design engineer in 1939, flew for Pan Am during World War II, then worked as a test pilot and flight test engineer for Lockheed until 1965, when he became vice president and general manager of the Lockheed Rotary Wing Division. He became Howard Hughes chief aviation advisor and left Lockheed to join the Hughes organization in 1971.
He served as president of Hughes Helicopter from 1979 until 1984, when he supervised the sale of the company to McDonnell Douglas. He remained as president of the new McDonnell Douglas Helicopter Company until retiring in late 1986.
Real received an honorary doctor of engineering degree from Michigan Tech in 1968, received the Michigan Tech Alumni Association's Distinguished Alumnus Award in 1995, is a member of the Presidents Club, the Second Century Society, is a life trustee of the Michigan Tech Fund and holds honorary degrees from Selma College in West Virginia, and Northrup University in California.
From 1995 Induction to the Department of Mechanical Engineering-Engineering Mechanics Academy