Gary L. Lawrey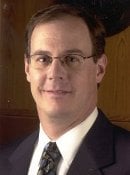 BS Mechanical Engineering 1979
Gary Lawrey earned a B.S. degree in Mechanical Engineering from Michigan Tech in 1979. He continued his education at the University of Detroit towards an M.S. degree in Engineering Management in 1986. Gary began his career in the automotive industry with Ford Motor Company in 1979 as a Process Engineer. He advanced to Plant Manager in 1996 at Ford's Berlin Plant in Berlin, Germany.
Upon his return to the United States he took a position with Visteon as an Advanced Engineering Manager for the Interior and Exterior Division. In that role, Gary managed systems-related technologies and advanced plastics and processing initiatives. After twenty years with Ford Motor Company, Gary joined Dow Chemical Company's business unit Dow Automotive in 1999 and was named Vice President of Automotive Systems within Dow Automotive in March 2000. He represents Dow Automotive interests with OEM customers on a global basis, their joint-venture relationships and growth in the parts and modules businesses. Gary is also responsible for the support of initiatives that continue future applications and growth for the materials side of Dow Automotive.
Gary is a member of the Society of Automotive Engineers (SAE) and was a member of the American Chamber of Commerce in Berlin, Germany. He was the lead speaker at the 2000 National Plastics Exposition where he presented "What you should expect from a supplier - bring innovation to market".
From 2001 Induction to the Department of Mechanical Engineering-Engineering Mechanics Academy