Fred L. Spagnoletti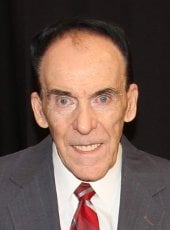 BS Mechanical Engineering 1965
Fred Spagnoletti graduated from Michigan Tech in 1965 with a Bachelor of Science degree in Mechanical Engineering. Before graduation he accepted a position with Rocketdyne, with whom he had interviewed while at Tech. His first assignment was at their test site in the Santa Susana mountains northwest of Los Angeles on the turbo pump for the F-1 rocket engine. This was the engine on the Apollo program Saturn V main booster rocket used on all the manned missions to the moon. The assignment was to be temporary but was made permanent three months later, so three months after graduation he had a permanent position working on flight hardware for the NASA mission to place men on the moon and return them safely to earth, the most important rocket engine program ever, and the countdown on each test could not commence until he personally had checked every possible thing that could cause a problem on a test run and then had released the test crew to start the countdown to the test (quite a large responsibility for a young engineer just out of college). Once the countdown was underway he and the test crew would go down to the block house a quarter mile away, to control and monitor the test and shut it down at any time if necessary to protect the hardware.
In 1972 he accepted the position of Manager of Engineering with the Turbine Support Division of Chromalloy American Corporation in San Antonio TX. The company was doing repair work on jet engine components primarily for the military. During the next several years they expanded into commercial work for all the major airlines in the world. In 1979 he became President of the Turbine Support Division. Later in 1979, while starting another refurbishing plant in Fort Walton Beach, FL, an opportunity arose to expand into the manufacturing of jet engine components for Rolls Royce, which he elected to take on. He had one year to install the required equipment and train 200 employees for the new company, Aero Component Technologies. That successful entry into manufacturing opened up a whole new future for Chromalloy where they were no longer fearful of acquiring manufacturing companies, which they later did successful many times. By 1993, Fred's last full year at Chromalloy (he left in 1994), Aero Component Technologies had expanded to five plants stretching from Tallassee, Florida to Anniston, Alabama having over 1500 total employees and was the single most profitable company in Chromalloy Gas Turbine Corporation that year.
Fred remained General Manager of Aero Component Technologies headquartered in Fort Walton Beach as long as he remained at Chromalloy, even as he also continued to serve as President of the Chromalloy Compressor Technologies Group which he had founded, and as the Executive Vice President of its Parent Company, Chromalloy Gas Turbine Corporation. Before he left his Chromalloy Compressor Technologies Group had grown to 14 companies.
After a 30 year career in aerospace, Fred began a second career doing research funded by a health insurance company. This evolved into a 17-year study of the mind and memory processes of modern humans. He is the author of a series of books on the subject.
Fred had begun work for Rocketdyne near Los Angeles one week after graduation from Michigan Tech. While working for Rocketdyne Fred met his first wife Fran, the mother of his two daughters Patsy and Jane. Fred and his wife Gaye now reside in Dallas.
From the Michigan Tech Mechanical Engineering-Engineering Mechanics Annual Report, for 2015