Kimberly Foster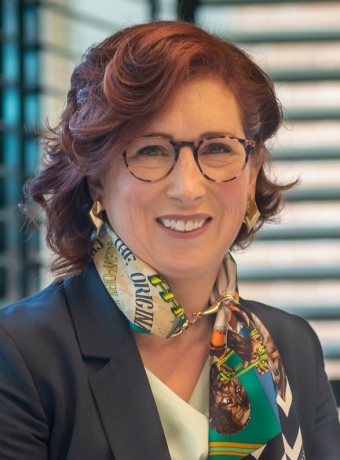 BS Mechanical Engineering 1994
Kimberly Foster has been the Dean of Science & Engineering at Tulane University in New Orleans since 2018. Prior to 2018, she was Chair and Professor of the Department of Mechanical Engineering at the University of California in Santa Barbara. She was co-vice-chair of the ME department from 2006–2008, and the undergraduate program director from 2005–2006. She joined the ME department at UC-Santa Barbara as an associate professor in 1999. While at UC-Santa Barbara she served as the co-chair of the Brain Initiative and associate director of the Center for Bioengineering.
Foster's research includes nonlinear microelectromechanical systems, micro/nanoscale mechanics and biomedical technology development. She has published over 175 refereed journal publications and has mentored 21 PhDs to graduation.
Foster holds 12 U.S. Patents. Her honors and awards include: ASME Fellow; one of ten women in New Orleans honored with a 2020 Women in STEM Award by the American Heart Association and Entergy; the UC-Santa Barbara Graduate Mentoring Award in 2013; the Michigan Tech Young Alumni Award in 2007. She was selected to the Michigan Tech Presidential Council of Alumnae in 2006; a recipient of the UC-Santa Barbara Academic Senate Distinguished Teaching Award in 2005; the NSF CAREER Award in 2001, and the American Vacuum Society Graduate Research Award in 1997.
While at UC-Santa Barbara she was very active in her professional community, organizing many conferences through the Transducer Research Foundation, and ASME.
Kim graduated from Michigan Tech with a Bachelor of Science in Mechanical Engineering in 1994. She received her PhD in Theoretical and Applied Mechanics from Cornell University in 1999.
While a student at Michigan Tech, she was a coach in the Engineering Learning Center.
Many know her father, Chris Passerello, who retired from the ME-EM department several years ago.
Kim and her husband, John, live in New Orleans.
From the ME-EM Academy Induction, May 2021