Paul W. Fernstrum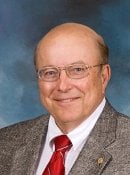 BS Mechanical Engineering 1965
Paul W. Fernstrum, a mechanical engineering alumnus, is chairman and past president of Menominee-based RW Fernstrum & Co., a third-generation family-owned company that invented—and continues to manufacture and market—the Gridcooler keel cooler, a marine engine heat exchanger, which was developed during World War II for landing craft.
Paul began his career at RW Fernstrum as a draftsman. In 1975 he designed the first of a series of engineering programs for the Gridcooler. Today, some of the applications of the Gridcoolers include cooling of hydroelectric stations, engines, offshore wind and tidal generators, pump stations, and electronics on tsunami early-warning buoys and ROV submersibles. In 1995, he became president of the company.
As a student, Paul was in the Air Force ROTC, the American Society of Mechanical Engineers, and Alpha Phi Omega. Paul is a Michigan Tech Fund trustee, and his commitment to Michigan Tech continues in many other ways. He has sponsored Senior Design teams and most recently helped create an incredible, new classroom in the R. L. Smith ME-EM Building.
He has been active in local and civic organizations as a director of the Stephenson National Bank & Trust, past president of the Rotary Club, past Scoutmaster and district chairman for the Boy Scouts of America and has received the Boy Scouts of America Silver Beaver Award, past commander of the US Power Squadron, and an elder at the Presbyterian Church.
Sandy and Paul's two sons, Sean and Todd, are also Tech alumni and work with their father. They also support various Michigan Tech initiatives, including School of Technology and Department of Humanities laboratories.
Lisa, Sean's wife is also a Tech alumna, and they are parents of Jeremy and Rachel who will be attending Michigan Tech this fall --- third generation at Tech.
In 2013, Paul received the Michigan Tech Alumni Association's Distinguished Alumni Award in recognition of his many contributions.