Edward J. Gaffney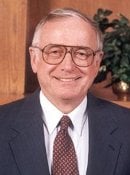 BS Mechanical Engineering 1951
Edward J. Gaffney Ted Gaffney earned a BS in Mechanical Engineering from Michigan Tech in 1951. After serving in the U.S. Navy and working as an engineer at Allis Chalmers for three years, he formed Neodyne Corporation, a research and development company.
In 1963, he founded Ortho-Kinetics, Inc., a manufacturer of health care products with manufacturing plants in the U.S. and Europe and sales offices in England, Germany, and France. He has won a number of honors and awards and holds ten patents and was named the U.S. Small Business Person of the Year in 1978.
Gaffney has served on advisory boards and councils for Marquette University, Alverno College, the University of Wisconsin business school, and the Milwaukee School of Engineering.
From 1995 Induction to the Department of Mechanical Engineering-Engineering Mechanics Academy