Diana D. Brehob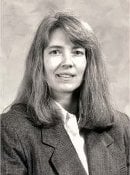 BS Mechanical Engineering 1978
Diana earned her Bachelor of Science Degree in Mechanical Engineering from Michigan Tech in 1978. She earned her Master of Science Degree in Mechanical Engineering in 1982 and her PhD in 1985, both from the University of California, Berkeley. She conducted research in internal combustion engines as a faculty member at the University of Minnesota and at Ford Motor Company before transitioning to patent law in 2000. She passed the patent bar in 2002 to become a Patent Agent and was granted her J.D. Wayne State in 2008 and became a Patent Attorney upon passing the Michigan Bar in 2009. Diana joined Brooks Kushman PLLC in 2008. Since 2010, she has been the Chief IP Counsel at EcoMotors, Inc.
While at Michigan Tech, Diana was a member of the Student Advisory Committee, SAE, and the Varsity Club. She was inducted into Pi Tau Sigma and Tau Bet Pi. She also participated in Women's Varsity Volleyball.
Diana is married, has twins: daughter Emily who is serving in Cameroon in the Peace Corps after graduating from University of Michigan and son Collin who graduated from Michigan Tech in Software Engineering. Her singleton daughter Meredith is presently studying Environmental Engineering at Michigan Tech.
Biography provided November 14, 2014, by Dr. Brehob