Craig C. Lazzari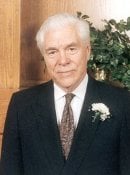 BS Mechanical Engineering 1942
Craig Lazzari graduated from Michigan Tech with a BS in Mechanical Engineering with honors, then served in the U.S. Navy in World War II. He began work in 1947 as a project and sales engineer for the Fish Engineering and Construction Corporation. He participated in the engineering and design of the Transcontinental Gas Pipeline Project, the Pacific Northwest Pipeline and various projects for Humble Oil Company, Shell Oil Company, El Paso Natural Gas, and Colorado Interstate Corporation. Twelve years later he became vice president of the Fish Engineering International Corp. In 1958 he negotiated a natural gas and oil pipeline with the government of Argentina and was appointed General Manager of SARGO, S.A., the company that executed the construction of the project which extended from the Bolivian border to Buenos Aires.
In 1964, he moved back to Houston, Texas and began working for the Interfinancial Corporation and became the president of the company in 1968. He executed and became an officer in companies such as Refineria Paraguay, S.A., Navipar, S.A., Alcalis de la Patagonia, S.A., Lone Star Energy Storage, Inc., and Drilcon, Inc. In 1993 he participated in a petroleum development project in Kazakhstan, which was later sold to the Chinese government.
While at Michigan Tech, he was involved in many organizations and was a member of the varsity football and basketball teams. Lazzari received the Michigan Tech Board of Trustees Silver Medal, served on the Michigan Tech Fund Board of Trustees, was awarded life membership in the Texas Society of Professional Engineers in recognition of long and meritorious service to the society and the profession. He is also a member of the National Society of Professional Engineers, is a registered professional mechanical engineer in the state of Texas and is a member of the Presidents Club.
From 1995 Induction to the Department of Mechanical Engineering-Engineering Mechanics Academy