Colleen L. Jones-Cervantes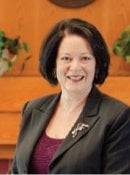 BS Mechanical Engineering 1983
Colleen L. Jones-Cervantes earned her BS degree in Mechanical Engineering from Michigan Technological University in 1983. After graduation Colleen started working at Chevron and has spent her career there in positions of increasing responsibility. She was often the only woman in these positions. Her first position with Chevron was in San Francisco, California as a project engineer in their retail marketing department. While there she would return to Michigan Tech to do recruiting. She spent time at a lubrication plant in Richmond in supply and maintenance. In 1992 she was General Manager, Retail West, North America marketing, and was responsible for gasoline marketing and retail sales at nearly 3,000 Chevron and Texaco-branded stations in nine western continental states and Hawaii and spent two years in Hawaii. She was also General Manager of Company Owned Stores and President of Chevron Stations, Inc in which she over saw all aspects of a network of more than 700 retail outlets. In the mid-90's she was based in the Philippines where she spent nearly two years as a District Sales Manager with Caltex Philippines, Inc. Prior to her current position she was Vice President, Global Marketing, Asia Pacific region, where she led retail sales and operations for the Caltex brand, commercial and industrial fuel sales, terminal operations, marketing logistics and asphalt operations throughout an 11-country area. ChevronTexaco, the second-largest US integrated oil company (behind Exxon Mobil), was formed by Chevron's 2001 acquisition of Texaco. She is currently Vice President for Product Supply & Trading with global responsibility for the supply of non-crude oil feed stocks to Chevron's refining system, refined products supply and trading, marine fuels marketing, and biofuels supply and trading. Her organization operates from four trading hubs in London, Singapore, U.S. Gulf Coast and U.S. West Coast, providing coverage to all of Chevron's downstream geography.
While in Asia she also served on the Board of Directors for Caltex Australia Ltd, the largest refining and marketing company in Australia. Caltex Australia ltd, in which Chevron holds 50% interest, is a public company listed on the Australian stock Exchange.
In addition to delivering business results, Colleen has a keen interest and passion for developing young professionals. She spends a great deal of time mentoring employees new to Chevron. She is actively involved with employee networks and serves on the Advisory Board for the Hispanic employee network, and is a frequent speaker at the Women's network events. During her time in Asia, Colleen supported "Caring for Cambodia"; a charity focused on improving education and providing basic needs for school age children around Siem Reap, Cambodia.
Colleen was inducted into the Michigan Tech Presidential Council of Alumnae in 2011 and will join the MEEM External Advisory Board this spring.
While a student at Michigan Tech, Colleen was a founding member of the Beta Xi chapter, Alpha Sigma Tau sorority. She served as Vice-President and President of the sorority. Colleen was a member of the Blue Key National Honor Society.
Colleen resides in Spring, Texas with her husband Winston and their two daughters, Kyndra and Lauren.