Christine R. Roberts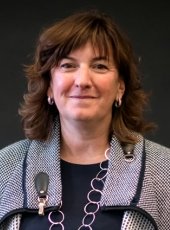 BS Mechanical Engineering 1991
Christine Roberts graduated from Michigan Tech in 1991 with a Bachelor of Science degree in Mechanical Engineering. She holds a Masters Certificate in Project Management from George Washington University, and earned her MBA in International Business from Kellstadt Graduate School of Business at DePaul University. Christine has also acquired certificates in Advanced Statistical Process Control and Six Sigma methodologies.
Her BS degree from Michigan Tech opened the door for her to secure a position at Motorola, Inc., where she worked for the next 20 years. Within five years Christine rose from Production Manager, to Senior Development Engineer, to a Manufacturing Engineering position. While rising through the ranks to more responsible positions with Motorola, she continued her education, obtaining her Masters Certificate in Project Management, and her MBA in International Business in 2000. In her role as a System Planner with Motorola, she began working with the PN Sales/Technical Team in state-wide system development and support for the first APCIO25 2-way radio system. Her next position as International Operations Program Manager put her in charge of a global multi-million dollar telecommunication infrastructure program, with responsibilities in Brazil, Argentina, Colombia and other Latin American markets.
In 2000, Christine was promoted to Director of Engineering & Program Management Implementation where she was tasked with leading a global deployment team in the execution of wireless infrastructure installations and upgrades worldwide. Her achievements led to her next promotion as Director of North American Business Operations, where she was responsible for business case development, sales, and value added services associated with Motorola Mobile devices. In 2004, she accepted a one-year rotational assignment as Director of Global Talent Development, leading all initiatives related to training and personnel career development. From 2006 to 2017 she served as the Senior Director of Asia Product Operations, Vice President of Global GTM Product Operations, and her final position with Motorola as the Vice President of Product Management – Motorola Mobility. She moved on to an eight month position with Netflix as Director of Partner Engagement – Samsung and LGE.
Christine is currently the Vice President and General Manager of Twilio's Super Network as well as Chairman of the Board for the Twilio Sweden Group - a company leading the way in Cloud Communications Services. Her passion for finding every opportunity to drive customer delight has led to over 25 years of experience in Engineering, Operations, and Product Management across Motorola, Google, Netflix and Twilio.
As an active proponent of engaging girls and under-represented minorities in STEM, Christine believes that exposing these groups to these fields early, consistently and experientially is the key to ensuring that diverse views and innovation are represented in technical organizations. She has volunteered her time and expertise in several worthy causes, including RAFT (Resource Area For Teaching), which is a non-profit organization in California founded in 1994 to inspire, engage and educate children through the power of hands-on teaching; the Math and Science Conference in SW Michigan for young women; the University of Illinois sponsored summer camp "GAMES" (Girls Adventures in Math, Engineering and Science); Junior Achievement; the Day of Science for Girl Scout Troops; and Women in Science and Engineering (WISE).
Recognizing her stellar achievements and community involvement, Christine was inducted into the Michigan Tech Presidential Council of Alumnae (PCA) in 2009. She has been an active member of the ME-EM External Advisory Board (EAB) since 2010.
Christine, along with her husband Eric (also a Michigan Tech Mechanical Engineering alumni) and daughter Kylie, followed the sun from Chicago to Silicon Valley in 2013. She notes, however, that much of her heart still belongs to the UP.