Charles D. Cretors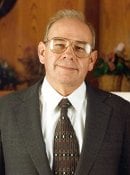 BS Mechanical Engineering 1963
Charlie Cretors earned a Bachelor of Science degree in Mechanical Engineering in 1963 and began his career with Commonwealth Edison of Chicago. In 1967 he joined his father and brother at C. Cretors and Company, a family business specializing in commercial popcorn machines since 1885. In 1980 he was named President and in 1991 he became sole owner of C. Cretors and Company.
Charlie is responsible for the successful expansion and continuous growth of C. Cretors and Company. To accommodate the expanding needs of the company, and diversified product line, he has had to redesign and relocate the factory two times in the last twenty-five years. Sales revenues have shown a dramatic increase since Charlie made the decision in 1982 to discontinue a distribution agreement with another company and handle all sales through their own facility.
Charlie holds seven patents; two for feeders and metering devices for continuous flow machinery, two for design of the commercial line of popcorn machines, two for a new pump design for popcorn machines, and one for a microprocessor controlled popcorn machine. He is also the author of the Popcorn Process section of the Corn Tech Manual and a chapter on popcorn processing in a new reference book for the snack food industry. He is currently a member of the Michigan Tech Alumni Association, and a member of the Snack Food Association Corn Tech Committee.
From 1998 Induction to the Department of Mechanical Engineering-Engineering Mechanics Academy