Anthony F. Raimondo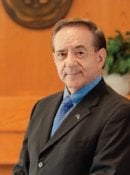 BS Mechanical Engineering 1962
Anthony F. Raimondo (Tony) earned his BS degree in Mechanical Engineering from Michigan Tech in 1962 and an MBA from the University of Rochester in 1972. Tony originally started in civil engineering but after noticing that mechanical engineering had more companies interviewing on campus, he switched to mechanical engineering. After graduation, Tony spent several years in large corporations. He joined General Motors 1962. Following management training and production supervisory experience at GM, Tony joined Moog, Inc., an aerospace company. He progressed from a Manufacturing Engineer to Quality Assurance Manager to Manufacturing Manager of this unique, people-oriented company that made the list of one of the best 100 companies to work for. He relocated from western New York to Omaha, Nebraska in 1976 where he spent several years at the Sperry Corporation as General Manager of Vickers, a $90 million hydraulic products manufacturing operation in Omaha, Nebraska. He joined Wickes Corporation in 1982 as General Manager. He led the efforts to complete a successful management buy-out of Behlen Manufacturing Company in 1984 at a time when Behlen experienced major losses due to market changes, and Wickes emerged from Chapter 11. He is currently Chairman & CEO of Behlen Manufacturing Company. Behlen Manufacturing Co. is a manufacturer of pre-fabricated buildings, grain bins, silos, and other structures, and is headquartered in Columbus, NE. The company was founded in 1936 and was bought out by Wickes Corp in 1969.
Tony has held a number of political appointments. He was appointed by the governor of Nebraska to chair the Nebraska Economic Development Commission from 1994-2003. He was a member of the Nebraska Department of Labor Unemployment Insurance Advisory Council from 1995 – 2006, chairman of the Department of Labor Workers Training Board from 1996 – 2006, and director of the Nebraska Industrial Competitive Alliance and its chairman from 1996-2003. In March, 2004, Tony was selected as President Bush's nominee of Assistant Secretary of Commerce for Manufacturing and Services (manufacturing czar), a new position in the Administration created to address the ailing factory sector. He subsequently withdrew due to presidential politics. He also ran for U.S. Senate in 2008 but lost in the Democratic primary.
Tony has served on the Board of Directors of the Omaha Branch of the Federal Reserve Bank of Kansas City from 1999-2004 (chaired in 2004), the Nebraska Diplomats (president 1994), and the Columbus, Nebraska YMCA and Capital Foundation co-chair. He served on Teammates, a state advisory board, was chairman of the NE Advanced Manufacturing Coalition in 2006, and was a member of the National Association of Manufacturers U.S. – China Task Force, and is a member of the University of Nebraska Medical Center Board of Councilors. He currently serves as a policy board member at Peter Kiewit Institute, University of Nebraska.
His awards include Behlen ranked 74th in the Top 100 training awards by Training Magazine in 2002, the Distinguished Leadership Award from the Nebraska Workforce Development in 2001, elected to the Nebraska Business Hall of Fame in 1994, and named Turnaround Entrepreneur of the Year by National Winner Inc. Magazine in 1994.
Tony currently lives in Columbus, NE and Bradenton FL with his wife Jeanne. The Raimondo's have four children. They are very proud of making education a family tradition. Phil has an MBA from Purdue University, Tony Jr. has an MBA from Ohio State, Linda has an MBA from Drake University and Diana has an MBA from Creighton University. Jeanne completed her BSBA at the University of Nebraska – Kearney.