Albert J. Maki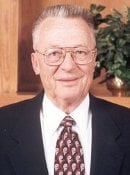 BS Mechanical Engineering 1948
Abbie Maki earned a BS in Mechanical Engineering from Michigan Tech in 1948. He spent three years in the gas turbine division of General Electric, then four years on the staff of the vice president for manufacturing at North American Aviation.
In 1955, he joined AVCO, where he was the program manager for the Titan and Atlas reentry vehicle program. Under his direction, the company performed the research, development and manufacturing of the Apollo heat shield. From 1973 through 1975, he was vice president and general manager for Centex Corporation's Castle Woodworking Company.
In 1975, he moved to Brunswick's defense division as director of manufacturing, responsible for the manufacture of ordnance systems, pressure vessels, reinforced plastics, camouflage, and defense systems. He retired in 1985. Maki received the Board of Trustees Silver Medal and was elected to the Michigan Tech Sports Hall of Fame in 1987.
From 1995 Induction to the Department of Mechanical Engineering-Engineering Mechanics Academy