Mahdi Shahbakhti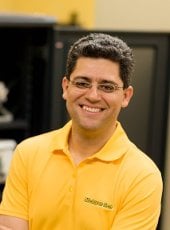 Contact
Adjunct Professor, Mechanical Engineering—Engineering Mechanics
Co-Advisor of Alternative Energy Enterprise
PhD, Mechanical Engineering, University of Alberta, Canada
Biography
Dr. Shahbakhti joined MTU in August of 2012. Prior to this appointment, he was a post-doctoral scholar for two years in the Mechanical Engineering Department at the University of California, Berkeley. He worked in the automotive industry for 3.5 years on R&D of powertrain management systems for gasoline and natural gas vehicles. Some of his past academic and industrial research experience includes system identification, physical modeling and control of dynamic systems including combustion engines, vehicle emission aftertreatment systems, hybrid electric vehicles, and HVAC systems.
His research at Michigan Tech focuses on increasing efficiency of energy systems through utilization of advanced control techniques. His current research involves the transportation and building sectors which account for 68% of total consumed energy in the United States. Dr. Shahbakhti's research to optimize efficiency of energy systems centers on developing and incorporating the following research areas: thermo-kinetic physical modeling, model order reduction, grey-box modeling, adaptive parameter estimation, model-based and nonlinear controls.
Shahbakhti is an active member of ASME Dynamic Systems & Control Division (DSCD), serving as the vice-chair of the Energy Systems (ES) technical committee and secretary of the Automotive Transportation Systems (ATS) technical committee, chairing and co-organizing sessions in the areas of modeling, fault diagnosis, and control of automotive systems, and building energy systems.
Areas of Expertise
Dynamic Systems Modeling and Control
Powertrain/Vehicle Control
Internal Combustion Engines
Vehicular Emissions and Aftertreatment Systems
Building Energy Controls
Research Interests
Modeling and Control of Energy Systems
Hybrid Electric Vehicles
Connected Vehicles
Advanced Combustion Engines
Energy Control of Buildings in a Smart Grid
HVAC/Climate Controls
Chundru, Venkata R., Mahadevan, Boopathi S.,Johnson, John H., Parker, Gordon G., Shahbakhti, Mahdi, "Development of a 2D Model of a SCR Catalyst on a DPF," Emission Control Science and Technology, Vol. 5, No. 2, online first Apr 2019, pp. 133-171. DOI 10.1007/s40825-019-00115-4
Ansari, Ehsan, Menucci, Tyler, Shahbakhti, Mahdi, Naber, Jeffrey D., "Experimental Investigation into Effects of High Reactive Fuel on Combustion and Emission Characteristics of the Diesel - Natural Gas Reactivity Controlled Compression Ignition Engine," Applied Energy, Vol. 239, Apr 2019, pp. 948-956. DOI:10.1016/j.apenergy.2019.01.256
Ansari, Ehsan, Shahbakhti, Mahdi, Naber, Jeffrey D., "Optimization of Performance and Operational Cost for a Dual Mode Diesel-natural Gas RCCI and Diesel Combustion Engine," Applied Energy, Vol. 231, Dec 2018, pp. 549-561. DOI:10.1016/j.apenergy.2018.09.040
Bidarvatan, Mehran, Shahbakhti, Mahdi, "Analysis and Control of Torque Split in Hybrid Electric Vehicles by Incorporating Powertrain Dynamics," ASME Journal of Dynamic Systems, Measurement, Control, Vol. 140, No. 11, Jun 2018, Article 111009, 11 pages. DOI:10.1115/1.4040219
B. Bahri, M. Shahbakhti, A.A. Aziz, "Real-time Modeling of Ringing in HCCI Engines using Artificial Neural Networks," Energy, Volume 125, Pages 509–518, 2017. Read More
M. R. Amini, M. Shahbakhti, S. Pan, J. K. Hedrick, "Bridging the Gap Between Designed and Implemented Controllers via Adaptive Robust Discrete Sliding Control," Control Engineering Practice, Vol. 59, pages 1-15, 2017. Read More
A. Solouk, M. Shakiba, M. Shahbakhti, "Analysis and Control of a Torque Blended Hybrid Electric Powertrain with a Multi-Mode LTC-SI Engine," SAE Int. J. of Alternative Powertrains, 15 pages, 6(1):2017, doi:10.4271/2017-01-1153, 2017. Read More
B. M. Singalandapuram, J. H. Johnson and M. Shahbakhti, "Predicting Pressure Drop, Temperature and Particulate Matter Distribution of a Catalyzed Diesel Particulate Filter using a Multi-zone Model including Cake Permeability," Emission Control Science & Technology, pages 1-31, doi:10.1007/s40825-017-0062-6, 2017. Read More
M. Razmara, G. Bharati, M. Shahbakhti, S. Paudyal, R. Robinett, "Bilevel Optimization Framework for Smart Building-to-Grid Systems," 12 pages, IEEE Transactions on Smart Grid, Issue 99, 2016. Read More
A. Solouk, M. Shahbakhti, "Energy Optimization and Fuel Economy Investigation of Series Hybrid Electric Vehicle Integrated with Diesel/RCCI Engines," Energies, 9(12), pages 1-23, 1020; 2016. Read More
M. Razmara, M. Bidarvatan, M. Shahbakhti, R. Robinett III, "Optimal Exergy-based Control of Internal Combustion Engines," Applied Energy, Vol. 183, pages 1389-1403, 2016. Read More
K. Khodadadi Sadabadi, M. Shahbakhti, A. N. Bharath and R. D. Reitz, "Modeling of Combustion Phasing of a Reactivity-Controlled Compression Ignition Engine for Control Applications," Int. J. of Engine Research, Vol. 17, Issue 4, Pages 421-435, 2016. Read More
Shahbakhti, Mahdi, Amini, Mohammad Reza, Li, Jimmy, Asami, Satoshi, Hedrick, J. Karl, "Early Model-Based Design and Verification of Automotive Control System Software Implementations," ASME Journal of Dynamic Systems, Measurement and Control, Mar 2015, Vol. 137, No. 2, Paper No. 021006, pp. 1-12, DOI: 10.1115/1.4027845 Read More
Salehi, Rasiyk, Alasti, Aria, Shahbakhti, Mahdi, Vossoughi, G.R., "Detection and Isolation of Faults in the Exhaust Path of Turbocharged Automotive Engines," International Journal of Automotive Technology, Feb 2015, Vol 16, No.1, pp. 127-138, DOI: 10.1007/s12239-015-0014-5 Read More
Rezaei, Javad, Shahbakhti, Mahdi, Bahri, Bahri, Aziz, Abdul Aziz, "Performance Prediction of Oxygenate Fueled HCCI Engines using Artificial Neural Networks," Applied Energy, Jan 2015, Vol. 138, pp. 460-473, DOI: 10.1016/j.apenergy.2014.10.088
Bidarvatan, Mehran, Shahbakhti, Mahdi, 2014, "Impact of Engine Dynamics on Torque Split Management of a Hybrid Electric Vehicle," ASME 2014 Dynamic Systems and Control Conference, Paper No. DSCC2014-6283, 10 pages, doi:10.1115/DSCC2014-6283, San Antonio, TX, October 22-24, 2014. Read More
Bidarvatan, M., Shahbakhti, M., 2014, "Integrated HCCI Engine Control Based on a Performance Index," Journal of Engineering for Gas Turbines and Power, Vol. 136(10), Article No. 101601, 9 pages, Paper No: GTP-14-1102, doi:10.1115/1.4027279. Read More
Bidarvatan, M., Shahbakhti, M., 2014, "Gray-Box Modeling for Performance Control of an HCCI Engine With Blended Fuels," Journal of Engineering for Gas Turbines and Power, Vol. 136(10), Article No. 101510, 7 pages, Paper No: GTP-14-1101, doi: 10.1115/1.4027278. Read More
Bidarvatan, M., Thakkar, V., Shahbakhti, M., 2014, "Grey-box modeling of HCCI engines," Applied Thermal Engineering, Vol. 70(1), pp. 397-409, doi:10.1016/j.applthermaleng.2014.05.031. Read More
Salehi, Rasoul, Shahbakhti, Mahdi, Hedrick, J. Karl, 2014, "Real-Time Hybrid Switching Control of Automotive Cold Start Hydrocarbon Emission," Journal of Dynamic Systems, Measurement, and Control, Vol. 134(4), Paper No: DS-12-1361, 10 pages, doi: 10.1115/1.4026534. Read More
Maasoumy, M., Razmara, M., Shahbakhti, M., Vincentelli, A. Sangiovanni, 2014, "Handling model uncertainty in model predictive control for energy efficient buildings," Journal of Energy and Buildings, Vol. 77, pp. 377-392, doi:10.1016/j.enbuild.2014.03.057. Read More
Amini, M., Shahbakhti, M., and Ghaffari, A., 2014, "A Novel Singular Perturbation Technique for Model-Based Control of Cold Start Hydrocarbon Emission," SAE Int. J. Engines 7(3), pp. 1290-1301, doi:10.4271/2014-01-1547. Read More
Bidarvatan, Mehran, Shahbakhti, Mahdi, Jazayeri, Seyed Ali, Koch, Charles R., 2014, "Cycle-to-Cycle Modeling and Sliding Mode Control of Blended-Fuel HCCI Engine," Journal of Control Engineering Practice, Vol. 24, pp: 79-91, DOI:10.1016/j.conengprac.2013.11.008. Read More
Bahri, Bahram, Aziz, Azhar Abdul, Shahbakhti, Mahdi, Muhamad Said, Mohd Farid, 2013, "Analysis and Modeling of Exhaust Gas Temperature in an Ethanol Fuelled HCCI Engine," Journal of Mechanical Science and Technology, Vol. 27(11), November 2013, pp. 3531-3539, DOI:10.1007/s12206-013-0879-z. Read More
Koochack, M., Gharehghani, A., Shahbakhti, Mahdi, 2013, "Experimental and Simulation Study of In-cylinder Strategies for Regeneration of Lean Nitrogen Oxide Traps in a High speed Direct Injection Diesel Engine," Institution of Mechanical Engineers, Part D: Journal of Automobile Engineering, Vol. 227(12), pp: 1661-1673, DOI: 10.1177/0954407013504751. Read More
Dehghani Firoozabadi, M., Shahbakhti, Mahdi, Koch, Charles R., Jazayeri, Seyed Ali, 2013, "Thermodynamic Control-oriented Modeling of Cycle-to-Cycle Exhaust Gas Temperature in an HCCI Engine," Applied Energy, Vol. 110, pp. 236–243, DOI: 10.1016/j.apenergy.2013.04.055.
Bahri, Bahram, Aziz, Azhar Abdul, Shahbakhti, Mahdi, Muhamad Said, Mohd Farid, 2013, "Understanding and Detection of Misfire in an HCCI Engine Fuelled with Ethanol," Applied Energy, Vol. 108, pp. 24-33, DOI: 10.1016/j.apenergy.2013.03.004.
Nazoktabar, Marieh, Jazayeri, Seyed Ali, Jahanian, Omid, Shahbakhti, Mahdi, 2013, "Using a Single Zone Thermodynamic Model in an HCCI Engine to Predict Effective Controlling Parameters," Journal of Engine Research, Vol. 25, pp. 13-23.
Bidarvatan, M., Shahbakhti, M, Jazayeri, S. A., 2012, "Model-Based Control of Combustion Phasing in an HCCI Engine," SAE Int. J. Engines, Vol. 5, No. 3, pp. 1163-1176. Read More
Shahbakhti, Mahdi, Bahri, B., Aziz, A.A., Muhamad, M.F. Said, 2012, "Misfire Detection Based on Statistical Analysis for an Ethanol Fueled HCCI Engine," Journal of International Review of Mechanical Engineering, Vol. 6, No. 6, pp. 1276-1282. Read More
Bidarvatan, M., Shahbakhti, M., Jazayeri, S. A., 2011, "Optimal Integral State Feedback Control of HCCI Combustion Timing," Int. Journal of Automotive Engineering, pp. 206-217. Read More
Shahbakhti, M., Ghazimirsaied, A., Koch, C. R., 2010, "Experimental Study of Exhaust Temperature Variation in an HCCI Engine," IMechE Part D: Journal of Automobile Engineering, Vol. 224, No. 9, pp. 1177-1197. Read More
Ghazimirsaied, A., Shahbakhti, M., Koch, C. R., 2010, "HCCI Combustion Phasing Prediction Using a Symbol-Statistic Approach," ASME Journal of Engineering for Gas Turbines and Power, Vol. 132, No. 8, 5 pages.
Shahbakhti, M., Koch, C. R., 2010, "Physics Based Control Oriented Model for HCCI Combustion Timing," ASME Journal of Dynamic Systems, Measurement and Control, Vol. 132, No. 2, 12 pages. Read More
Shahbakhti, M., Jazayeri, S. A., Ghafuri, M., Aslani, A. R., Sahraeian, A., Azadi, S., 2010, "A Method to Determine Fuel Transport Dynamic Model Parameters in Port-Fuel Injected Gasoline Engines during Cold Start and Warm-up Conditions," ASME Journal of Engineering for Gas Turbines and Power, Vol. 132, No. 7, 5 pages. Read More
Shahbakhti, M., Koch, C. R., 2009, "Dynamic Modeling of HCCI Combustion Timing in Transient Fueling Operation," SAE Int. J. Engines, Vol. 2, pp. 1098-1113. Read More