Martha N. Sullivan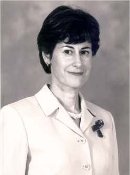 BS Mechanical Engineering 1980
Martha Sullivan earned a bachelor's degree in Mechanical Engineering from Michigan Tech in 1980 and has since completed studies towards a master's in Business Administration at the University of Michigan.
She started her career with Texas instruments in 1984 and is now the Chief Operation Officer and Vice President of Sensata Technologies, Inc. in Attleboro, Massachusetts. Sensata Technologies is the former Sensors and Controls Group of Texas Instruments. Martha also serves as a member of the Sensata Board of Directors.
Martha's career has firmly established her as a leader in the sensor and control industry. At Texas instruments she held numerous managerial positions including Global Business Unit Manager of Sensor Products, Automotive General Manager for North America, Automotive Marketing Manager, and Detroit Sales Manager. Martha was promoted to Vice President at Texas Instrument in 1998 and has developed into a worldwide industry leader. When Texas Instruments sold the Sensors and Controls Group in 2006, Sensata Technologies became a stand-alone company.
In addition to her corporate responsibilities, Martha has served on several industrial and educational advisory boards. At Michigan Tech, Martha served on the ME-EM External Advisory Board and was recently selected for induction into Michigan Tech Academy of Mechanical Engineering and Engineering Mechanics.
Other advisory boards including the Ford International Supplier Advisory Council (ISAC), Board of Trustees at Kettering University, and Key Executive Council at Rensselaer Polytechnic Institute. She is also a frequent speaker and panelist in a variety of forums that have included iNEMI Innovation Leadership Forum (International Electronics Manufacturing Initiative) and the Executive Women's Conference at Morgan Stanley. Martha was the keynote speaker in 2004 at the annual Building Our Future Day at Rensselaer Polytechnic Institute. Martha has also volunteered for Odyssey of the Mind, a national academic program for students.
Martha, her husband, Mike, and their two children live in Wrentham, Massachusetts.