Douglas J. Hamar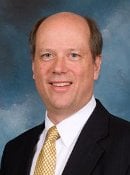 BS Mechanical Engineering 1984
Douglas J. Hamar (BSME '84) is president of Hamar Group, president/CEO/co-owner of Horner Flooring, president of Denver Hardwood Co Inc, Denver CO, president of Cascade Pacific Floor Distributors, Portland OR and Seattle WA, president and treasurer of Rio Grande Flooring Distributors, Albuquerque NM, and president/co-founder/principal of CRT & Associates, a firm specializing in custom computer software and hardware.
Horner Flooring, a privately owned company is known worldwide for its Pro-King basketball floors. In 2002, Horner Flooring Inc received the Business of the Year Award from the 15Keweenaw Peninsula Chamber of Commerce and in 2003 the US Dept of Commerce's Export Achievement Award. Doug is the inventor or coinventor on more than 10 patents with several patents pending, the creator or co-creator of various trademarks and holds several software copyrights. He serves on the Board of Directors of Superior National Bank, the Keweenaw Financial Corporation, and Northern Mutual Insurance Company.
He was a member of the Chassell Township Schools Board of Education and the Chassell Township Planning Commission. He teaches Sunday school. He is a past member of the Copper Country Salvation Army Advisory Board, Copper Country Community Schools Board of Education, and the Copper Country Association of School Boards. He also is a member of the ME-EM Building for the Future, Phase II Committee. He received the Michigan Tech Outstanding Young Alumni Award in 1994, and is a life member of the Michigan Tech Alumni Association. He was also the keynote speaker at the MEEM Senior Banquet in 2008 where he was inducted into the Order of the Engineer. Doug and his wife Shelby have a daughter, Leslie, and a son, Reid. The Hamars reside in Hancock and Chassell, MI.
From 2011 Induction to the Department of Mechanical Engineering-Engineering Mechanics Academy