Douglas J. Hamar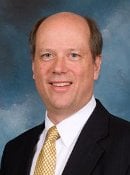 BS Mechanical Engineering 1984
Doug is currently the President & CEO of Horner Flooring, The Hamar Group, and CRT & Associates. Current responsibilities include leadership of Homer's administrative and specialty sales activities at its facility in Dollar Bay, Michigan. Involvement with The Hamar Group entails strategic direction of an expanding group of floorcovering distribution companies with 17 locations spread across 11 states. Strategic product development and marketing activities define the principle involvement with CRT & Associates, a company co-founded by Doug while still a student at Michigan Tech.
Doug's activities, while engaged with these companies, have included plant engineering, product design, software development, mergers and acquisitions and R&D. These activities have contributed to Doug being an inventor or co-inventor on seven patents with others currently pending. Doug earned his bachelor's in mechanical engineering and master's in business administration from Michigan Technological University and is a member of the Mechanical Engineering Order of the Engineer.
Doug serves as President of the Maple Flooring Manufacturers Association Board of Directors, Chair of the Board of Directors of Northern Mutual Insurance Company and is a member of the Chassell Township Planning Commission. He has also served as a director of Superior National Bank & Trust and Keweenaw Financial Corporation as well as a member of the FIBA (International Basketball Federation) Study Centre Decisional Board.
Doug is a member of the MTU Mechanical Engineering Academy as well as the MTU McNair Society and President's Club. He is also a recipient of the Michigan Tech Alumni Association's Outstanding Young Alumni Award.
In 2017 he was inducted into the School of Business and Economics Academy of Business.
Doug resides in Hancock, MI with his wife Shelby (Seaton) Hamar '81 and two children.
From the School of Business and Economics Academy of Business 2017 Induction Ceremony program.