Donald G. Wheatley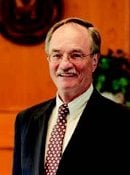 MS Engineering Mechanics 1963
Engineering Mechanics 1963
Donald G. Wheatley earned his BS degree in Mechanical Engineering from Michigan Technological University in 1962 and his MS in Engineering Mechanics in 1963. He later earned an MBA from the University of Michigan in 1975. Don's parents did not encourage him to go to college but with no job opportunities in Sault Ste. Mare in 1958, he rebelled and came to Michigan Tech.
After graduation from Michigan Tech, Don went to work for General Motors in 1963. He worked on the guidance systems doing vibration and fatigue analysis for the Apollo project. Out of the 60 new graduates on the project, he was the only one remaining at the end of the project. He also did some work on the main battle tank. He then accepted an unsolicited offer from Ford in 1965 and was there until 1996. At Ford he worked in a small team to define the new Ford Maverick. He later led the team that designed and developed the Ford Bronco. In 1982 he invested $350 to start a business in his basement with his son making clear and tinted Euro-Lens line headlight covers (thermo-formed) for trucks and cars to protect the bulb and for looks. He sold that business in 1984 when he founded and became President of Extang Corp, making Extang's famous "No Damage, No Drilling, Clamp-On Aluminum Frame " truck bed cover systems, a tonneau cover. Extang was the first to sell this truck accessory product nationwide. Extang grew to 128 employees with 3 plants and with sales of $18-20 million. He sold Extang in 2007. Extang had built a 50 foot carbon fiber catamaran but they decided it was not financially viable and it was sold, although it continues to win races today. The resulting boat technology and patents launched Fortress Stabilization Systems which is owed by his son Edward. His daughter, Anne and her husband Dave then spun off a Wahoo Composites/Wahoo Walls from Fortress. Wahoo builds custom carbon fiber beams for robots and has launched an energy saving wall system. While at the helm of his business, Don liked to hire young kids who had problems in their lives and give them the chance to turn their lives around.
In 1984, Don helped fellow Michigan Tech Graduate, George Rohrer, incorporate and arrange for financing for Ramtron International, a NASDAQ company to achieve the potential of a ferroelectric memory device. Don decided that he could not add further value to the endeavor so did not join the firm.
Don has over 53 patents as inventor or as co-inventor while at Ford Motor Co. and Extang. Extang Corp has more design patents than all other tonneau companies combined. Other awards include: the DaimlerChrysler Design Excellence Award for Product Application at the 1999 SEMA Show in Las Vegas for product design that adds to the quality and effectiveness of Dodge Trucks and Chrysler Vehicles, the Machine Design Award at Michigan Tech by the Industrial Press of New York City in 1962, and a Michigan Tech Fellowship in 1962.
Don lives with his wife Patricia in Punta Gorda, FL. They have two children, Edward and Anne.