Dale J. Roberto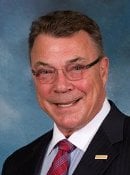 BS Mechanical Engineering 1969
Dale J. Roberto (BSME '69) is President/Owner of Smalley Manufacturing Co. Inc. in Knoxville, TN. Prior to working for Smalley, Dale worked for the Post Company in Battle Creek, MI. He was the project manager responsible for installing the Fruity Pebbles line.
Smalley Manufacturing Company Inc. was founded by the Smalley family and is a privately owned company that incorporated in 1940. It has progressed from designing and manufacturing a nut shelling machine to become one of the most respected designers/ manufacturers of customized product conveying, storage and distribution systems equipment for the dry food industry, e.g. belt conveyors, bucket lifts, vibrating conveyors for Hershey, Ralston, Kraft, etc. The company had eight employees when Dale started with Smalley and currently employs 73 and operates in a 50,000 square - foot facility. Smalley is the leading manufacturer and supplier of food conveying systems in the United States and Canada. Dale holds one patent for a storage and discharge apparatus.
He is a trustee of the Michigan Tech Fund and while at Michigan Tech, Dale was president of Blue Key, chair of the Memorial Union Board, member of the President's Commission for the Expansion of the Memorial Union, a member of the Michigan Tech Flying Club, and a member of the student chapter of ASME. Dale and his wife Sarah reside in Knoxville, TN. He has three sons: Scott, Patric, and Brett.
From 2011 Induction to the Department of Mechanical Engineering-Engineering Mechanics Academy