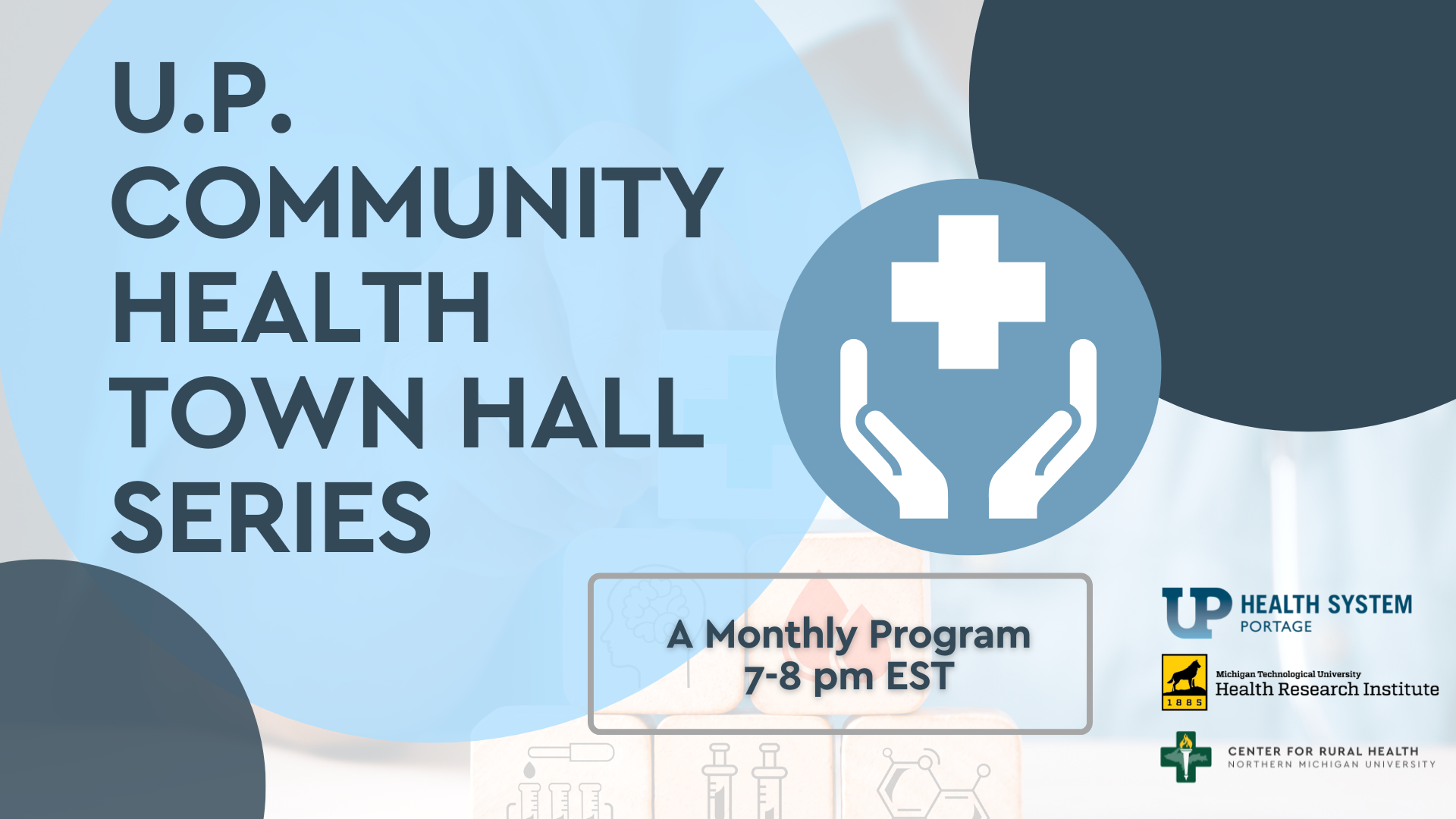 The UP Community Health Town Hall Series is free of charge, and open to the public. Each session features a diverse panel of experts and will focus on different aspects of health and its impact on our communities within the Upper Peninsula. Join us on the final Thursday of each month.
The Town Hall broadcasts can be viewed live at 7:00pm ET through a Zoom Webinar and Facebook Live or heard on 97.7 The Wolf (WOLV-FM), 98.7 Rockin Eagle (WGLI-FM), 105.7 Eagle Country (WCUP-FM), and 107.7 Q107 (WMQT-FM). Each Town Hall can also be viewed on ABC 10 the following Sunday at 12:00pm ET. The recordings of each Town Hall are also posted below.
To submit a question to moderators, please email townhall2020@mtu.edu.
Fall 2022
October 27
UP Health: Needs and Solutions
December 1
Spring 2022
Last Thursday of the Month 7:00-8:00pm ET
January 27
Dealing with the Omicron Variant
February 24
Maintaining Mental Health and Well-Being During the Pandemic
March 31
April 28
A Healthy, Resilient, and Sustainable UP Community
Fall 2021
September 30
Lessons Learned During the Pandemic
October 28
Pulling Together Through Tough Times
December 2
---
Summer 2021
May 27
Health and Well Being during the Pandemic and Beyond
June 24
Summer Activities During COVID-19
August 26
Dealing with the Delta Variant
---
Spring 2021 Sessions
January 28
February 25
Mental and Physical Health During the Pandemic
March 25
April 29
Impact of the Pandemic on the Environment
---
Fall 2020 Sessions
September 3
Role of Public Health to Protect the Community
September 10
COVID-19 Preparedness and Emergency Response
September 17
How COVID-19 Impacts the Human Body
September 24
Virus Transmission, Testing, Tracing, and Vaccine Development
October 1
Hospitalization and Acute Care for COVID-19
October 8
How to Stay Physically Active during the Pandemic
October 22
Impact of the COVID-19 Pandemic on Mental Health
October 29
November 5
How to Work Safely and Productively
November 12
Michigan Tech Response to COVID-19 and Student Involvement
November 19
December 3
COVID-19 Exacerbation of Health Disparities
This series is brought to you by the Health Research Institute and through the generosity of our community sponsors.