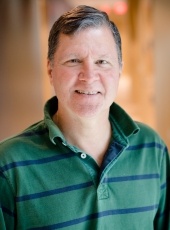 James M. DeGraff '75 '76 was collecting rocks and minerals at age eight. By high school, he was reading about mountain and rock formation and river system development. "I thought those were some of the coolest topics," he says.
Those interests led DeGraff to Michigan Technological University to earn a bachelor's in geology and a master's in geophysics. "The relatively small size of the school and the wonderful natural surroundings also appealed to me because of my desire for a more cozy and serious educational atmosphere and love of the outdoors.
DeGraff says Michigan Tech taught him scientific discipline and how to manage multitasking under challenging conditions. "The self-discipline and worth ethic that was sharpened by my time at Tech has helped me in similarly challenging career situations over the years."
His career has taken him to Alaska, where he explored for massive sulphide and porphyry copper deposits, and to Paraguay with the Peace Corps as a geophysics professor at the Universidad Nacional de Asunción, where he taught geophysics, field geology and helped a government water agency to drill water wells for small rural communities.
After earning a PhD in structural geology in 1987 from Purdue University, he worked at ExxonMobil research and operations companies for 27 years, retiring in 2015.
Now DeGraff is an adjunct professor at Texas A&M, College Station and a research professor at Michigan Tech. He recently received a research award from the United States Geological Survey to conduct a mapping project along part of the Keweenaw Fault at Bete Grise Bay and to support students to become the next generation of geologic mappers.
He also gives back to Michigan Tech to the Lloyal O. Bacon Endowed Award as a tribute to his former master's advisor and to the Bill Rose Geoscience Student Travel Endowment.
"It's an opportunity to support the university that gave me so much and also to honor influential educators in my life. I support Michigan Tech because of a strong desire to do what I can to benefit society. It's very important to support higher education and to create opportunities for students to become successful and achieve their dreams."
DeGraff says when not studying geology he likes to bike, swim, walk, and explore. "My wife, Isabel, and I like to travel, meet new people, and see other cultures and learn about them."