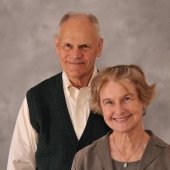 Seattle, Washington
Gift Designation
Type of Gift
Advancing Sustainability through Endowed Chairs
Richard and Bonnie Robbins created the Robbins Chairs of Sustainability, which include a Chair in Sustainable Manufacturing and Design, a Chair in Sustainable Use of Materials, and a Chair in Sustainable Management of the Environment.
A total of $6 million has been committed through their charitable remainder trust that will ultimately come to Michigan Tech to fund the primary endowment for the chairs. In the interim, they are supporting the three chairs with a yearly $60,000 payment to be provided through their existing $700,000 Robbins Fund at the Michigan Tech Fund.
Richard graduated from Michigan Tech in 1956 with a BS in Mechanical Engineering. In 1958, he joined the Robbins Company and assumed leadership of the firm when his father died three months later. The company's string of records in tunnel-boring technology includes the boring of the "chunnel," the three huge tunnels under the English Channel.
Establishing the Robbins Chairs in Sustainability was a natural fit, Richard said. "My wife and I both consider ourselves environmentalists, and we also support sustainability."
For more information on the wide range of options to support Michigan Tech, contact the Office of Gift Planning.