Get Trained
Attend a workshop to become a part of the Family Engineering network of trained volunteers.
Train Others
Sponsor or host a training workshop for educators, engineers, or other community organizations.
Host an Event
A Family Engineering event creates an informal, fun environment that introduces engineering to elementary-aged children and their parents.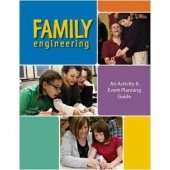 Family Engineering is for parents, K-12 educators, school administrators, informal STEM educators, engineers, engineering societies, university STEM majors, colleges, universities, businesses, and industry.
Get training as a workshop host.
Begin scheduling an event in your area.