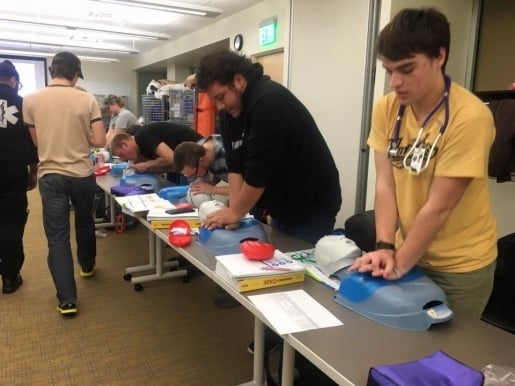 EMS Frequently Asked Questions
1
What is Michigan Tech EMS?
We are a municipal non-transport medical agency, staffed by mostly students, and operate under the Department of Public Safety and Police Services. We help local medical services by responding to medical emergencies on campus and provide medical care until the paramedics can arrive. MTUEMS is not a paid agency.
2
When are the services of Tech EMS available?
Members will be on call 24/7 to respond to medical emergencies. When a call is made to 911 for an on-campus medical emergency we are dispatched.
3
Are there any fees for this service?
No, we operate as a volunteer organization.
We offer an EMT class for students who wish to join Michigan Tech EMS. We also offer American Heart Association Heartsaver First Aid/CPR/AED courses for Michigan Tech students and staff and community members. For more information on our EMT courses, click here. For more information on our CPR/First Aid courses, click here. See our Education tab to the left for more information.
5
How do I become a member?
The MFR/EMR provides immediate lifesaving care to patients who have accessed the EMS system. The MFR/EMR is usually the first on scene and will wait for a higher-level EMS practitioner to arrive and take over care. The MFR/EMR takes patient vital signs; utilizes basic airway, ventilation, and oxygen therapy devices; and provides stabilization of the spine and suspected extremity injuries. The MFR/EMR is also trained in eye irrigation, bleeding control, emergency moves, CPR, automated external defibrillation, and emergency childbirth care. This level of certification requires 40 hours of training.
As defined by the 10th Edition of Mistovich and Karren's Pre-Hospital Emergency Care Textbook, an Emergency Medical Technician (EMT) provides basic emergency medical care and transportation to patients who access the EMS system. The interventions provided by the EMT include those performed by the EMR but with basic equipment found on an ambulance (EMT is commonly the lowest level of certification allowed to work on an ambulance). The EMT utilizes pulse oximetry, advanced oxygen therapy and ventilation equipment, automatic blood pressure monitoring equipment, and limited medication administration.
The AEMT provides all of the skills of the EMT with the addition of the use of advanced airway devices, monitoring of blood glucose levels, initiation of intravenous and intraosseous (in-the-bone) infusions, and administration of a select number of medications. The AEMT provides limited advanced emergency medical care and transportation to patients in the pre-hospital environment.
The scope of practice of a Paramedic includes the skills performed by the EMT and AEMT with the addition of more advanced assessment and patient management skills. The Paramedic is the highest level of EMS practitioner. Paramedics perform advanced assessments, form a field impression, and provide invasive and drug interventions as well as transport the patient. Their care is designed to reduce disability and death of patients who access the EMS system.
10
Are the EMTs of Tech EMS as good as regular EMTs?
Yes. Michigan Tech EMS requires all of its active responding members to be certified by the National Registry of Emergency Medical Technicians and licensed to practice in the state of Michigan. This certification is the one and only certification recognized by professionals across the US. To verify the licensure of any of our members, click here.
11
What does EMS stand for?
Emergency Medical Services. This term encompasses all pre-hospital emergency medical care.
12
Why would I call for Tech EMS
If you, or a friend is in danger or a medical emergency of any kind, call 9-1-1, immediately, day or night. Michigan Tech EMS and Public Safety officers can be paged to your location as soon as the call is placed.
13
What does membership include? How do I join?
There is only one level of membership, and it includes responding to emergencies, receiving training, and many other things. Please see our Prospective Members page for more information.
14
What would be required of me as a member of Tech EMS?
Members respond to emergency calls, provide medical coverage on campus and at community events, and attend training sessions to keep their skills current. Find out more at the Prospective Members page.
15
If I am under age, will I get in trouble if I call 9-1-1 for medical assistance for myself or a friend who has been drinking?
In this and any emergency situation, we highly encourage you to call 9-1-1 for help. Michigan Tech Public Safety and EMS observe a medical amnesty policy that serves to protect students who have been involved in illegal activities, but are calling for help in an emergent situation. Please refer to the Michigan Technological University Student Code of Community Conduct- section IV to view the medical amnesty policy.