Industry Days give companies the chance to connect with students and show off their latest technologies. Students get to network with company reps and see the future of industry.
Each September, Industry Days take place under the CareerFEST Tent in the center of campus. They allow students to explore careers, ask questions, and meet employers in a casual environment.
Play Industry Days at Michigan Tech: Meet Your Future video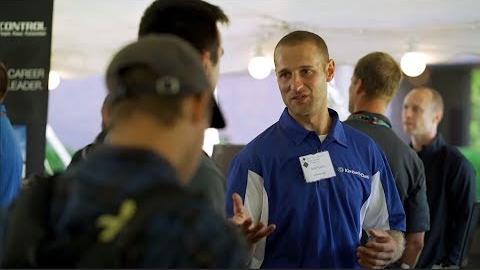 See what Industry Days at Michigan Tech are all about.
Industry Days (Fall 2019) include
Mobility Day (Sept 5)
Advanced Materials & Manufacturing Day (Sept 10)
Fox Cities Day (Sept 12)
Energy/Construction/Civil Day (Sept 17)

Steel Day (Sept 19)
Business Careers Day (Sept 23)
Career Fair Cookout (Sept 24)
Career Fair (Sept 25)
Students: Visit Handshake to view upcoming Industry Days and workshops.
Employers: Head to Handshake to register your company for Industry Days at Michigan Tech.
"I started networking with companies early and went to as many Industry Days as possible. Recruiters knew me by name at Career Fair."

Matthew Rudy, Electrical Engineering '18
---
Of College Students Prefer Engaging with Company Reps in an Informal Environment

Companies Participated in Industry Days in 2017

Lunches Served During Industry Days