Swarup China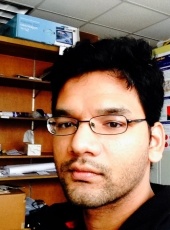 PhD, Michigan Technological University, (2014) Atmospheric Sciences
MS, University of Nevada Las Vegas, (2008) Civil and Environmental Engineering
BTech, Visvesvaraya National Institute of Technology, India, (2006) Civil Engineering
Biography
Research and Duties After Graduation
His major areas of research interest are the morphological and optical properties of atmospheric aerosols, atmospheric aerosol chemistry and heterogeneous ice nucleation. He joined the group of Dr. Alexander Laskin at the Environmental Molecular Sciences Laboratory at the Pacific Northwest National Laboratory as a postdoctoral research associate, to study chemical aging of atmospheric particle through multi-phase atmospheric chemistry. He aims to better understand the physical chemistry of atmospheric particles controlling aerosol-cloud interactions.
Research While at Michigan Tech
Swarup China received his PhD in Atmospheric Sciences from Michigan Technological University in 2014, working under the supervision of Dr. Claudio Mazzoleni in the Environmental Optics Laboratory in the Physics department. Swarup's PhD work was partially supported by a National Aeronautics and Space Administration Earth and Space Science Graduate Fellowship. His PhD research was focused on understanding the effects of morphology and mixing states on optical and microphysical properties of aerosols using various aerosol instruments and spectroscopy techniques. During his PhD research, he also investigated the propensity of aged free tropospheric particles to catalyze heterogeneous ice nucleation.
Position After Graduation
Title: Postdoctoral Research Associate
Group: Dr. Alexander Laskin Group
Institution: Environmental Molecular Sciences Laboratory, Pacific Northwest National Laboratory