Theresa A. Coleman-Kaiser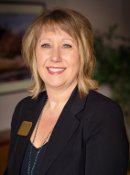 Contact
906-487-3348
101 Memorial Union
Associate Vice President for Administration
MBA, Business Administration, Marylhurst University
BBA, Business Administration, University of Iowa
Biography
Theresa A. Coleman-Kaiser has served as Associate Vice President for Administration since 2015 after holding several administrative and operations positions at Michigan Tech since 1999. Coleman-Kaiser currently oversees the A.E. Seaman Mineral Museum, the Office of Continuous Improvement, Facilities Management, Campus Auxiliary Services, Public Safety and Police Services, Environmental Health and Safety, and the Business Support Center within Administration.
Prior to Michigan Tech, Coleman-Kaiser worked at Grinnell College, St. Norbert College, and the University of Oregon in auxiliary services and student union roles. Coleman-Kaiser is a Lean practitioner, a campus Lean facilitator.
Links of Interest
Specialties
Applying Lean principles, methods, and tools for process, service, and performance improvement
University business operations management
Organizational development and strategic alignment
Coaching for leadership excellence
About Theresa
Prior to her current suite of responsibilities at Michigan Tech, Theresa has enjoyed the opportunity to work across the institution in a broad range of administrative areas ranging from the Rozsa Center for the Performing Arts to Human Resources and Facilities Management. Some personal highlights at Michigan Tech have been acting as Project Manager for building the Little Huskies Child Development Center and serving as Logistics Section Chief of the Incident Command Team. Adding to those highlights from her higher ed career would be coordinating the on-campus experience of the Green Bay Packers summer training camp at St. Norbert College and running The Fishbowl cafeteria in the Erb Memorial Union at the University of Oregon which is the site of the famous Food Fight scene in National Lampoon's Animal House movie. Theresa enjoys new challenges and learning new skills.