The Distinguished Lecture Series started in Fall 2016 to honor faculty for their research impact. Department chairs, center/institute directors, deans, and Research Advisory Council members nominate highly engaging presenters with broad topic appeal. Distinguished Lecturers are selected for their ability to increase the knowledge of our community by connecting their research with societal and community concerns. Topics are broad, spanning all colleges and schools at Michigan Tech. Nominees are reviewed by committee twice per year and announced at the beginning of fall and spring semesters.
Schedule
3:45 p.m. Networking
4:15 p.m. Lecture
4:45 p.m. Networking
| March 28, 2023 | Theme: Community Empowerment and Well-being |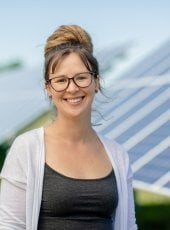 Lecturer
Distinguished Lecturer, Dr. Chelsea Schelly
Topic
Confronting Complexity while Keeping our Heads and our Hearts (And Keeping Communities Centered in Collaborative Science)
Research Statement
As a sociologist who studies the relationship among social systems, infrastructural systems, and ecological systems, Dr. Schelly sees complexity everywhere. In this talk, Dr. Schelly will highlight some current projects and the complex intersections among social, ecological, and infrastructural systems being studied, highlighting how these intersections ultimately impact real conditions of wellbeing for individuals and communities. The increasing threats to human wellbeing associated with surpassing planetary limits, the locked-in nature of infrastructures and the socio-economic systems that maintain them, and the pace and uncertainty associated with social change are all daunting complexities. To address these complexities as a researcher without being overwhelmed by the challenges, Dr. Schelly advocates for collaborative, community-engaged research processes that provide opportunities to celebrate diverse experiences and forms of expertise while staying focused on the potential impact of research in terms of enhanced community empowerment and wellbeing. This talk highlights collaboration and community engagement as opportunities for researchers to address daunting complexities without losing our heads or our hearts in the process.