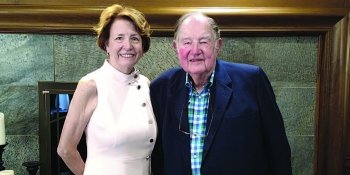 Ross and Mary Anne Roeder have always felt that college life should involve more than labs and classrooms. So about 15 years ago, when Michigan Tech's football program fell victim to state budget cuts, they were among the dedicated cadre of alumni who helped bring it back from the brink, and they have remained key supporters. "We believe that football—that all sports—are a big part of the college experience," Ross says.
Ross attended Michigan Tech in the 1950s, changing his major from engineering to business before earning degrees from Michigan State and later UCLA. "Tech was 100 percent engineering and science at the time," he remembers. "Since then, more sports have been added, as well as performing arts. It's given Tech more diversity— women's sports have been a great addition."
To appreciate all that college life has to offer, however, you must first go to college. Until Ross enrolled at Michigan Tech, no one in his family had attended a university, and later he learned he was not unique. In his former role as president of the Michigan Tech Fund Board of Trustees, he was impressed by how many Tech alumni were also the first in their families to get college degrees. At a time when college costs are rising all over, the Roeders want to make sure today's young people have the same opportunity.
We are both passionate about education, and we both had the opportunity to get a good education," says Mary Anne. "We feel it's important to help talented students without our family resources to achieve the same things we did." They focus this aspect of their Tech giving on the School of Business and Economics, where Ross acquired the fundamentals of an education that would launch a career leading highly successful businesses. Their Ross Roeder Endowed Scholarship recognizes business students with leadership and entrepreneurial skills.
"I've always had a fond feeling about Tech and had lots of friends there," says Ross. "This is one way to say thanks."
Jimmie Cannon, Roeder Scholarship Recipient
"I initially came to Michigan Tech to play football, but I stayed for the awesome experiences. I've been president of the Black Student Association, a member of the Undergraduate Student Government, and youth pastor in my church, plus I was honored to receive the 2017 Percy Julian Award for promoting diversity. None of that would have been possible without support, and the Roeders' scholarship in particular has been a blessing. They have helped me attend college and pursue my dreams.
I am now completing a double major in accounting and MIS and sitting for my CPA, so being a public accountant is a logical next step. But I'm also considering pursuing a law degree, which would put me in a position to serve others. I believe in a selfless lifestyle, and I strongly believe that good comes to those who do good."
---