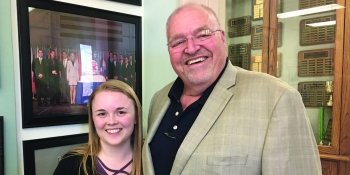 David Lyth will never forget the moment he met Joyce Caylor. "Back in 1968, there were only about 300 women at Tech, and one of them was talking to my roommate," he says. Never one to let an opportunity slip away, David did the only sensible thing: "I walked up and inserted myself into the conversation."
A great friendship evolved into love. David and Joyce earned business degrees and went on to get married, build successful careers, and share a rich, fulfilling life together. David is now a professor of industrial and manufacturing engineering at Western Michigan University, while Joyce held a number of high-level corporate posts and started two businesses. Then, in 2009, she was diagnosed with brain cancer. Before she passed away in 2014, they decided to set up a scholarship to help young women. So David funded the Joyce Caylor Lyth (JCL) Scholarship to benefit young women from the UP who wanted to major in accounting but didn't have a lot of resources. In addition, he launched the Pioneering Women in Business (PWB) Annual Scholarship, which has attracted support from multiple donors.
Joyce combined a successful career in business with high ethical standards and a keen sense of justice, David says, and he hopes that those qualities are passed down to her scholarship recipients. He has written a biography of his late wife, which he shares with the scholarship recipients. "It's important to me that these women know who Joyce is," he explains. "In a way, they are like Joyce's daughters, because they are continuing the legacy of this wonderful woman."
"Just to be considered for the Joyce Caylor Lyth and the Pioneering Women in Business scholarships is a rare privilege, but to be selected for both has been a great honor. Like Joyce, I've been interested in business since high school; the accounting classes made sense to me. And as a Yooper growing up in Calumet, I knew about Michigan Tech's great business program. It didn't make sense to even consider another school.
Business Professionals of America (BPA) inspired my interest in the world of business, and as a Tech student and accounting major, I volunteered at regional and state BPA conferences. Since graduating, I have accepted a position as a staff accountant at ThermoAnalytics in Calumet, which gives me an opportunity to achieve two of my goals: first, to apply Joyce's values of hard work and ethical conduct in the workplace, and second, to continue to make my home in the beautiful Upper Peninsula."