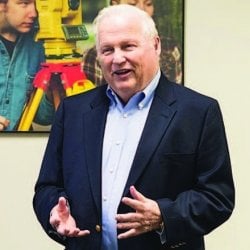 Excellence in education rests on a three-point foundation: top-quality students, faculty, and facilities. William "Bill" G. Jackson and his wife, Gloria, supported them all during their 40-plus years of giving to Michigan Tech.
The Jacksons made their first gift in 1973, 15 years after Bill graduated with a BS in Electrical Engineering, and continued to contribute. They made their first major gift in 1998, establishing the William and Gloria Jackson Endowed Scholarship for electrical engineering majors.
The Jacksons' second major gift, in 2007, was inspired in part by Bill's career. In addition to earning an engineering degree, he took classes in engineering administration at Michigan Tech, which served him well as he went on to establish the cable television company CableAmerica. The William and Gloria Jackson Endowed Professorship supports "an exceptional scholar and teacher whose expertise and activity bridges the disciplines of computer science, electrical and computer engineering, and business entrepreneurship."
In 2013, the Jacksons made their final major gift, funding the William G. Jackson Center for Teaching and Learning, located in the Van Pelt and Opie Library, and an array of technological improvements throughout campus.
Sadly, Bill passed away on March 1, 2018. He has received multiple honors from Michigan Tech, including the Distinguished Alumni Award, but his most lasting recognition will be the success of the thousands of students who continue to benefit from his generosity.
Jacob Pieti, Jackson Scholarship Recipient
"Back in high school, I knew I wanted to be a part of big projects with large, tangible products, so I decided to major in civil engineering, with the goal of getting my PE license and becoming a project manager. Michigan Tech was an obvious choice, both because I'm from Calumet and because my dad and grandpa both came here. College is more expensive than it was in their day, but I've been fortunate. Scholarships have made a huge difference in my education. They removed financial stress and set me up for a better future. When I'm established, I'll be likely to support a scholarship as a way of passing on the generosity of the donors who helped me."
---