Annual giving clubs honor gifts of $100 or more, made in support of any Michigan Tech program or department. Members of giving clubs are recognized by giving level on the annual Donor Honor Roll, which is released at the end of each fiscal year (after June 30). Special member benefits begin at the Presidents Club level.
President's Club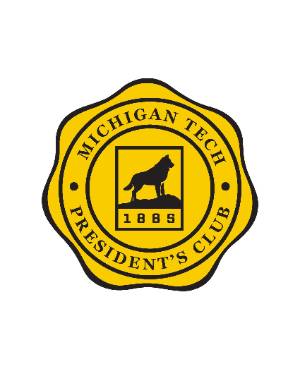 The Michigan Tech President's Club is a group of alumni and friends who support the University with gifts of at least $1,000. Those who give at this level help to ensure that the University can continue to provide quality academic programs and facilities.
As a Presidents Club member, you will receive
A birdseye maple wall plaque that can be updated for each year of membership
Invitations to special Michigan Tech events held on campus and around the country, and
Publications about University events and programs
906 Club
Honor the Upper Peninsula and Michigan Tech. Join Anderson and other Tech alumni like you. Become a member of the 906 Club. Make a gift based on your graduation year (see chart below) and receive a 906 Club membership sticker.
Michigan Tech catapulted my career and jump-started my personal growth. I will forever be thankful for the depth and breadth of opportunities that were afforded to me. I want every future and current Husky to have access to the same opportunities, if not more. One small way I can contribute to that goal is by giving back through the 906 Club. Now that I'm financially stable, I don't miss even sixty dollars. Instead of spending that money on myself, I know that it will be put to good use by helping someone at Michigan Tech. Plus, who doesn't love 906 memorabilia?"
Gifts are based on your graduation year, Here are the minimum annual gift amounts for each class:
Class of 2011: $129.06
Class of 2012: $109.06
Class of 2013: $99.06
Class of 2014: $89.06
Class of 2015: $69.06
Class of 2016: $59.06
Class of 2017: $49.06
Class of 2018: $29.06
Class of 2019: $19.06
Class of 2020: $9.06