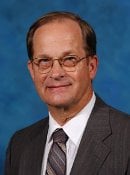 Dr. Walter Kauppila '64
Walter Kauppila graduated from Baraga High School in 1960 and from Michigan Tech in 1964 with a BS in physics. He attended graduate school at the University of Pittsburgh, from which he received a PhD in experimental atomic physics. After post-doctoral work at the University of Colorado and a visiting professorship at the University of Missouri-Rolla, he joined the physics department at Wayne State University where he taught and conducted research for 38 years.
Born in the Copper Country and raised on a farm in Baraga, Kauppila took advantage of a Michigan Tech scholarship for top local students.
"I benefited considerably from Tech providing me a scholarship," said Kauppila. "My father, even though he had only an eighth grade education, was a very capable farmer. My mother was a teacher. Receiving a full tuition scholarship and commuting from home enabled me to get my start in collegiate education for which I am eternally grateful."
Kauppila was the author or co-author of more than 200 publications, including 11 in Physical Review Letters, the most prestigious journal in physics. His work focused on positrons—the antimatter particle equivalents of electrons—and their applications in atomic collision experiments and spectroscopy.
In addition to his considerable body of research and scholarship, Kauppila always enjoyed teaching and explaining physics concepts in a straightforward and understandable manner. He has given numerous talks and physics-demonstration presentations to audiences of all ages and continues to do so in retirement.
In reflection of his humble heritage and academic career, Kauppila has started an endowed scholarship at Michigan Tech to be awarded to a Baraga High School graduate.
"Just like it was for me, the cost of a college education can be a big obstacle," he said. "I'd like to help other Baraga grads attend Michigan Tech and have the same opportunity that I was given."
Ryan D., 2nd-year Mathematics major, Kauppila Endowed Scholarship Recipient
"This scholarship has impacted my life in the best ways. Coming from a lower income family, attending college without financial aid wouldn't have been an option—especially at a great university like Michigan Tech. People like Mr. Kauppila make college obtainable for those who always knew that was what they wanted to do but never knew how they were going to do it."
---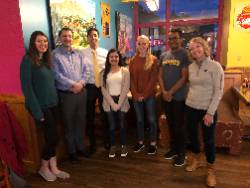 Annexstad Foundation
Zack Haas (third from left) is from the Annexstad Family Foundation, which administers the Leaders for Tomorrow National Scholarship Program providing annual assistance to college students who have endured extraordinary challenges in life. Zack had the opportunity to meet and visit with the eight Michigan Tech students who are receiving support this year. Three of the scholarship recipients and a few University staff members are pictured with Zack.
---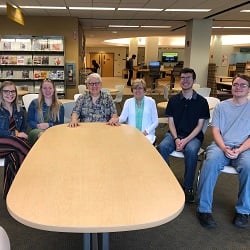 Dr. Franklin St. John '60, BS Metallurgical Engineering
Franklin and his wife, Lorraine, have provided support for numerous University needs over the years. In addition to funding a faculty chair position in the Materials Science & Engineering department, they established two scholarships – the Louis St. John Endowed Memorial Scholarship and the Franklin St. John Endowed Scholarship. Franklin and Lorraine visited campus during August of 2019 and were able to meet up with a number of their current scholarship recipients.
---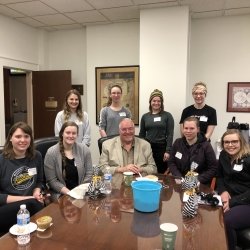 Dr. David Lyth '73, BS, School of Business and Economics
David supports two scholarships in Michigan Tech's School of Business and Economics—The Joyce Caylor Lyth Scholarship and the Pioneering Women in Business Scholarship. During a visit to campus, David was able to have breakfast and catch up with the eight students currently receiving assistance from these scholarships.
---