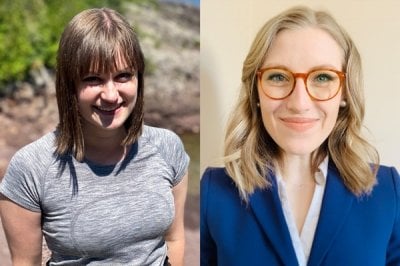 Nottoli/Hon Scholarship
Two Michigan Tech students will receive assistance with their educations this year thanks to a couple from California, who have ties to the area and the University. The multi-year scholarship(s) have been established to provide material support for the disciplines of engineering and health sciences and to honor wishes held by Lt. Col. Robert N. Nottoli USAF (Ret.), and Samuel C. Hon M.D. F.A.C.S, both of whom believed that a quality education was the gateway to success in service to others.
The couple, (although not Tech graduates) have chosen to invest in the University's growing health sciences area out of a desire to promote and assist students who are pursuing careers in the fields of biomedical engineering and health sciences pre-med with goals that eventually lead to a medical degree.
Preference is being given to Copper Country students in the hope that recipients who pursue becoming physicians will return to the Copper Country to practice and provide sustainable care to citizens of the region.
During the 2020-21 academic year, $2,500 has been awarded to two students. Karmyn Polakowski is a medical laboratory sciences major from Atlantic Mine, Michigan. Lindsay Sandell is studying biomedical engineering major and is from Houghton.
"I am honored and humbled to have been chosen as a recipient of this award," said Polakowski. "I will continue to put my best effort forward as I finish my undergraduate degree and beyond. I cannot convey my thanks enough. Receiving this scholarship from people who believe hard work and success go hand in hand motivates me to continue to do my very best."
Sandell also shared her appreciation. "I would like to thank you for your support during my final year at Michigan Tech. This was truly an honor and surprise to receive. The monetary support is extremely helpful for my education. Tech students benefit so much from having donors like you to support their educational and career goals. I personally appreciate their support in helping me move closer to my dream of becoming a doctor."
---
Diane '81 and Craig '80 Holmes
Choosing to make Michigan Tech a beneficiary of your estate is a great way to support the University without changing your day-to-day finances. There are many vehicles that allow flexibility for you to make a planned gift to benefit Tech.
Diane (Bier) and Craig Holmes recently settled on a specific way to give to Tech after realizing the original plans for their trust were difficult to implement. They chose to make Michigan Tech the beneficiary of their primary residence through a Lady Bird deed.
"Your trust is only as good as the ability to execute it in the time frame and manner that you have planned in your mind," they said. "Segregating our property from our other assets turned out to be an easy way to accomplish what we were looking to do in terms of execution and simplification."
Diane '81 and Craig '80 each earned a Bachelor of Science in Civil Engineering at Tech. Their substantial gift will primarily support scholarships within the Civil and Environmental Engineering Department. Other parts of their gift will benefit the University's Husky Emergency Assistance Fund and CEE's involvement in intercollegiate competitions such as Concrete Canoe.
Diane, whose father is a Tech alumnus, began attending summer youth programs at MTU while in high school. She began her career designing railroad bridges but found herself working in technical sales and marketing in the field of environmental groundwater and soil remediation.
"The impact of Tech started on day one," she said. "Being a woman in a male-oriented field, I felt full acceptance at Tech, and it taught me how to think things through. Even when I was in technical sales and marketing, I never stopped being an engineer."
Craig, who grew up near Lansing, Michigan, credited his high school physics teacher for pointing him to Houghton. Once on campus, he knew that the remoteness of Houghton would allow him to work hard as a student. Craig spent his entire career working in risk management/risk mitigation and control, culminating with starting his own company in 2004. He was inducted into the CEE Academy in 2019.
"Tech provided me a credential that was never questioned," he said. "Within my field, Michigan Tech was known. Not everybody had that. My background at Tech helped me understand the technical concepts I needed to know to bear down and solve problems."
Both retired, Diane and Craig hope to give others the same solid foundation they had through their Michigan Tech education.
"With all that's going on in the world right now, it was a good opportunity to take stock in what matters," they said. "There's no organization that's given more to us and no other place that can do the amount of good in one fell swoop as Tech."
The planned gift is just one part of Diane and Craig's contribution to Michigan Tech. They helped MTU with development of its original FEMA All Hazards Mitigation Plan. More recently, they've been active in trying to draw CEE Academy members back to campus for mentoring and other activities.
"Science and engineering are where the future is," they said. "Tech graduates have an automatic grasp of leadership and the need for it. Someone has to take charge and get to work solving problems."
---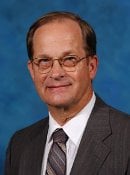 Dr. Walter Kauppila '64
Walter Kauppila graduated from Baraga High School in 1960 and from Michigan Tech in 1964 with a BS in physics. He attended graduate school at the University of Pittsburgh, from which he received a PhD in experimental atomic physics. After post-doctoral work at the University of Colorado and a visiting professorship at the University of Missouri-Rolla, he joined the physics department at Wayne State University where he taught and conducted research for 38 years.
Born in the Copper Country and raised on a farm in Baraga, Kauppila took advantage of a Michigan Tech scholarship for top local students.
"I benefited considerably from Tech providing me a scholarship," said Kauppila. "My father, even though he had only an eighth grade education, was a very capable farmer. My mother was a teacher. Receiving a full tuition scholarship and commuting from home enabled me to get my start in collegiate education for which I am eternally grateful."
Kauppila was the author or co-author of more than 200 publications, including 11 in Physical Review Letters, the most prestigious journal in physics. His work focused on positrons—the antimatter particle equivalents of electrons—and their applications in atomic collision experiments and spectroscopy.
In addition to his considerable body of research and scholarship, Kauppila always enjoyed teaching and explaining physics concepts in a straightforward and understandable manner. He has given numerous talks and physics-demonstration presentations to audiences of all ages and continues to do so in retirement.
In reflection of his humble heritage and academic career, Kauppila has started an endowed scholarship at Michigan Tech to be awarded to a Baraga High School graduate.
"Just like it was for me, the cost of a college education can be a big obstacle," he said. "I'd like to help other Baraga grads attend Michigan Tech and have the same opportunity that I was given."
Ryan D., 2nd-year Mathematics major, Kauppila Endowed Scholarship Recipient
"This scholarship has impacted my life in the best ways. Coming from a lower income family, attending college without financial aid wouldn't have been an option—especially at a great university like Michigan Tech. People like Mr. Kauppila make college obtainable for those who always knew that was what they wanted to do but never knew how they were going to do it."
---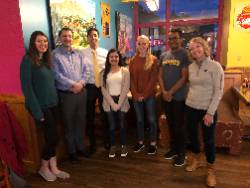 Annexstad Foundation
Zack Haas (third from left) is from the Annexstad Family Foundation, which administers the Leaders for Tomorrow National Scholarship Program providing annual assistance to college students who have endured extraordinary challenges in life. Zack had the opportunity to meet and visit with the eight Michigan Tech students who are receiving support this year. Three of the scholarship recipients and a few University staff members are pictured with Zack.
---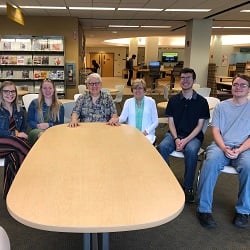 Dr. Franklin St. John '60, BS Metallurgical Engineering
Franklin and his wife, Lorraine, have provided support for numerous University needs over the years. In addition to funding a faculty chair position in the Materials Science & Engineering department, they established two scholarships – the Louis St. John Endowed Memorial Scholarship and the Franklin St. John Endowed Scholarship. Franklin and Lorraine visited campus during August of 2019 and were able to meet up with a number of their current scholarship recipients.
---