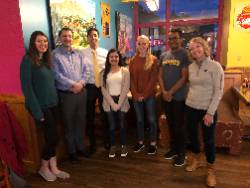 Annexstad Foundation
Zack Haas (third from left) from the Annexstad Family Foundation visited campus in October 2019. The Annexstad Foundation administers the Leaders for Tomorrow National Scholarship Program providing annual assistance to college students who have endured extraordinary challenges in life. Zack had the opportunity to meet and visit with the eight Michigan Tech students who are receiving support this year. Three of the scholarship recipients and a few University staff members are pictured with Zack.
---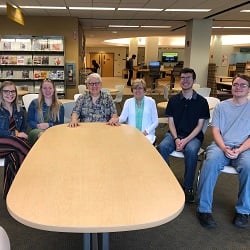 Dr. Franklin St. John '60, BS Metallurgical Engineering
Franklin and his wife, Lorraine, have provided support for numerous University needs over the years. In addition to funding a faculty chair position in the Materials Science & Engineering department, they established two scholarships – the Louis St. John Endowed Memorial Scholarship and the Franklin St. John Endowed Scholarship. Franklin and Lorraine visited campus during August of 2019 and were able to meet up with a number of their current scholarship recipients.
---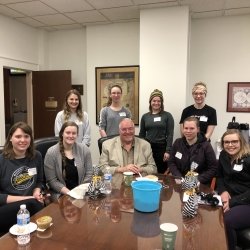 Dr. David Lyth '73, BS, School of Business and Economics
David supports two scholarships in Michigan Tech's School of Business and Economics—The Joyce Caylor Lyth Scholarship and the Pioneering Women in Business Scholarship. In April 2019, during a visit to campus, David was able to have breakfast and catch up with the eight students currently receiving assistance from these scholarships.
---