Gregory M. Odegard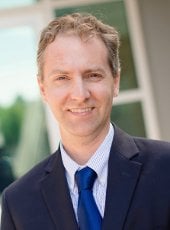 John O. Hallquist Endowed Chair in Computational Mechanics, Mechanical Engineering-Engineering Mechanics
Director of Research
Affiliated Professor, Materials Science and Engineering and ASME Faculty Advisor
PhD, University of Denver
MS, University of Denver
BS, University of Colorado at Boulder
Biography
Greg Odegard is John O. Hallquist Endowed Chair in Computational Mechanics in the Department of Mechanical Engineering–Engineering Mechanics at Michigan Technological University. He holds a Bachelor of Science in Mechanical Engineering from the University of Colorado at Boulder, a Master of Science in Mechanical Engineering from the University of Denver, and a PhD in Materials Science from the University of Denver.
Odegard was a researcher at NASA Langley Research Center in Hampton, Virginia, from 2000 to 2004, when he joined the faculty at Michigan Tech. He has received numerous awards, including the Ralph R. Teetor Educational Award in 2011, the Ferdinand P. Beer and E. Russell Johnston Jr. Outstanding New Mechanics Educator Award in 2008, the Michigan Tech Outstanding Graduate Mentor Award in 2008, the Boeing/SDM Best Paper Award in 2005, and the SAMPE Outstanding Graduate Student Award in 1998.
Odegard has authored or co-authored over sixty technical journal articles and four book chapters, and has been involved in over one hundred conference presentations. According to Google Scholar, his publications have been cited over 4,000 times in the technical literature. His research has been funded by NASA, the Air Force Office of Scientific Research, the National Science Foundation, the National Institutes of Health, Mayo Clinic, Southwestern Energy, General Motors, REL, and Titan Tires. As a PI and co-PI, he has been involved in externally funded research projects totaling over $21 million.
Links of Interest
Areas of Expertise
Mechanics of Materials
Materials Science
Research Interests
Computational Mechanics
Computational Materials Science
Computational Chemistry
Fadayomi, O, Sanders, P. G., Odegard, Gregory M., "Microstructure and Properties of Precipitation-hardened Zr and Zn-Zr Based Aluminum Alloys," Journal of Alloys and Compounds, Vol. 788, online first Mar 2019. pp. 1218-1230. DOI:10.1016/j.jallcom.2019.02.324
Pisani, William A., Radue, Matthew S., Chinkanjanarot, Sorayot, Bednarcyk, B. A., Pineda, E., Waters, K., Pandey, R., King, J. A., Odegard, Gregory M., "Multiscale Modeling of PEEK using Reactive Molecular Dynamics Modeling and Micromechanics," Polymer, Vol. 163, Feb 2019, pp. 96-105. DOI:10.1016/j.polymer.2018.12.052
Sharifian, A., Baghani, M., Wu, J., Odegard, Gregory M., Baniassadi, M., "Insight of Geometry-Controlled Mechanical Properties of Spiral Carbon-Based Nanostructures," Journal of Physical Chemistry C, Vol. 123, No. 5, Jan 2019, pp. 3226-3238. DOI:10.1021/acs.jpcc.8b12269
Fadayomi, O, Clark, R, Thole, V, Sanders, P. G., Odegard, Gregory M., "Investigation of Al-Zn-Zr and Al-Zn-Ni Alloys for High Electrical Conductivity and Strength Application," Materials Science and Engineering A: Structural Materials: Properties, Microstructure and Processing, Vol. 743, Jan 2019, pp. 785-797. DOI:10.1016/j.msea.2018.11.111
Aluko, O., Gowtham, S., Odegard, Gregory M., "The Development of Multiscale Models for Predicting the Mechanical Response of GNP Reinforced Composite Plate," Composites Structures, Vol. 206, Dec 2018, pp. 529-534. DOI: 10.1016/j.compstruct.2018.08.093
Chinkanjanarot, Sorayot, Tomasi, J. M., King, J. A., Odegard, Gregory M., "Thermal Conductivity of Graphene Nanoplatelet/Cycloaliphatic Epoxy Composites: Multiscale Modeling," Carbon, Vol. 140, Dec 2018, pp. 653-663. DOI:10.1016/j.carbon.2018.09.024
Odegard, Gregory M., Liang, R, Wise, K E., "Editorial: Special Issue on Carbon Nanotube Composites," Composites Science and Technology, Vol. 166, Sep 2018, pp. 1-2. DOI:10.1016/j.compscitech.2018.07.013
Radue, Matthew S., Odegard, Gregory M., "Multiscale Modeling of Carbon Fiber/Carbon Nanotube/Epoxy Hybrid Composites: Comparison of Epoxy Matrices," Composites Science and Technology, Vol. 166, Sep 2018, pp. 20-26. DOI:10.1016/j.compscitech.2018.03.006
Jensen, B. D., Odegard, Gregory M., Kim, J. W., Sauti, G., Siochi, E. J., Wise, K. E., "Simulating the Effects of Carbon Nanotube Continuity and Interfacial Bonding on Composite Strength and Stiffness," Composites Science and Technology, Vol. 166, Sep 2018, pp. 10-19. DOI:10.1016/j.compscitech.2018.02.008
Chinkanjanarot, Sorayot, Radue, Matthew S., Shankara, G., Tomasi, J. M., Klimek-McDonald, D. R., King, J. A., Odegard, Gregory M., "Multiscale Thermal Modeling of Cured Cycloaliphatic Epoxy/Carbon Fiber Composites," Journal of Applied Polymer Science, Vol. 135, No. 25, Jul 2018, Article 46371, 10 pages. DOI:10.1002/app.46371
Yao, Wentao, Odegard, Gregory M., Huang, Z., Yuan, Y., Asayesh-Ardakani, H., Sharifi-Asl, S., Cheng, M., Song, B., Deivanayagam, R., Long, Fei, Friedrich, Craig R., Amine, K., Lu, J., Shahbazian-Yassar, R., "Cations Controlled Growth of Beta-MnO2 Crystals with Tunable Facets for Electrochemical Energy Storage," Nano Energy, Vol. 48, Jun 2018, pp. 301-311. DOI:10.1016/j.nanoen.2018.03.057
Wheatley, B., Odegard, Gregory M., Haut Donahue, T. L., Kaufman, K. R., "Modeling Skeletal Muscle Stress and Intramuscular Pressure: A Whole Muscle Active-Passive Approach," Journal of Biomechanical Engineering, Vol. 140, No. 8, Jun 2018, Article 081006, 8 pages. DOI:10.1115/1.4040318
Krieg, A., Jaszczak, D., Miskioglu, Ibrahim, Mills, O. P., Odegard, Gregory M., "Tensile and Conductivity Properties of Carbon Black/Epoxy, Graphene Nanoplatelet/Epoxy, and Carbon Black/Graphene Nanoplatelet/Epoxy Composites," Journal of Composite Materials, Vol. 52, No. 28, Dec 2018, pp. 3909-3918. DOI:10.1177/0021998318771460
Klimek-McDonald, D. R., King, J. A., Miskioglu, Ibrahim, Pineda, E. J., Odegard, Gregory M., "Determination and Modeling of Mechanical Properties for Graphene Nanoplatelet/Epoxy Composites," Polymer Composites, Vol. 39, No. 6, Jun 2018, pp. 1845-1851. DOI:10.1002/pc.24137
Tomasi, J. M., King, J. A., Krieg, A. S., Miskioglu, Ibrahim, Odegard, Gregory M., "Thermal, Electrical, and Mechanical Properties of Talc‐ and Glass Microsphere‐Reinforced Cycloaliphatic Epoxy Composites," Polymer Composites, Vol. 39, No. S3, Jun 2018, pp. E1581-E1588. DOI: 10.1002/pc.24513
King, J. A., Tomasi, J. M., Klimek-McDonald, D. R., Miskioglu, Ibrahim, Odegard, Gregory M., King, T. R., "Effects of Carbon Fillers on Conductivity and Tensile Properties of Polyetheretherketone (PEEK) Composites," Polymer Composites, Vol. 39, Special Issue S2, May 2018, pp. E807-E816. DOI: 10.1002/pc.24250
King, Julia A., Tomasi, J. M., Klimek-McDonald, D. R., Miskioglu, Ibrahim, Odegard, Gregory M., King, Todd R., "Effects of Carbon Fillers on Conductivity and Tensile Properties of Polyetheretherketone (PEEK) Composites," Polymer Composites, Special Issue: Carbon Nanotube Composites, Vol. 39, No. S2, pp. E807-E816, May 2018. DOI: 10.1002/pc.24250
Krieg, Aaron S., King, Julia A., Jaszczak, David C., Miskioglu, Ibrahim, Mills, Owen P., Odegard, Gregory M., "Tensile and Conductivity Properties of Epoxy Composites Containing Carbon Black and Graphene Nanoplatelets," Journal of Composite Materials, Vol. 0, No. 0, 10 pages, online first Apr 2018. DOI: 10.1177/0021998318771460
Yao, Wentao, Odegard, Gregory M., Huang, Z., Yuan, Y., Asayesh-Ardakani, H., Sharifi-Asl, S., Cheng, M., Song, B., Deivanayagam, R., Long, Fei, Friedrich, Craig R., Amine, K., Lu, J., Shahbazian-Yassar, Reza, "Cations Controlled Growth of Beta-MnO2 Crystals with Tunable Facets for Electrochemical Energy Storage," Nano Energy, Vol. 48, pp. 301-311, online first Mar 2018. DOI: 10.1016/j.nanoen.2018.03.057
Tomasi, Julie M., King, Julia A., Krieg, Aaron S., Miskioglu, Ibrahim, Odegard, Gregory M., "Thermal, Electrical, and Mechanical Properties of Talc-and Glass Microsphere-Reinforced Cycloaliphatic Epoxy Composites," Polymer Composites, 8 pages, online first Jul 2017, DOI: 10.1002/pc.24513
Wheatley, B.B., G.M. Odegard, K.R. Kaufman, T.L. Haut Donahue, "A Case for Poroelasticity in Skeletal Muscle Finite Element Analysis: Experiment and Modeling", Computer Methods in Biomechanics and Biomedical Engineering, Vol. 20, No. 6, pp. 598-601 (2017) Read More
Wheatley, B.B.; G.M. Odegard; K.R. Kaufman; T.L. Haut Donahue, "A Validated Model of Passive Skeletal Muscle to Predict Force and Intramuscular Pressure", Biomechanics and Modeling in Mechanobiology, Vol. 16, No. 3, pp. 1011–1022 (2017) Read More
Jensen, B.D., K.E. Wise, G.M. Odegard, "Simulation of Mechanical Performance Limits and Failure of Carbon Nanotube Composites", Modeling in Materials Science and Engineering, Vol. 24, No. 2, 025012 (2016) Read More
Wheatley, B.B., D.A. Morrow, G.M. Odegard, K.R. Kaufman, T.L. Haut Donahue, "Skeletal muscle tensile strain dependence: hyper viscoelastic nonlinearity", Journal of the Mechanical Behavior of Biomedical Materials, Vol. 53, pp. 445-454 (2016) Read More
J.M. Tomasi, I.D. Helman, W.A. Pisani, D.R. Klimek-McDonald, S. Chinkanjanarot, I. Miskioglu, J.A. King, G.M. Odegard, "Accelerated hydrothermal aging of cycloaliphatic epoxy/graphene nanoparticle composites", Polymer Degradation and Stability, Vol. 133, pp. 131-135 (2016) Read More
Wheatley, B.B., G.M. Odegard, K.R. Kaufman, T.L. Haut Donahue, "How does tissue preparation affect skeletal muscle transverse isotropy?", Journal of Biomechanics, Vol. 49, no. 13, pp. 3056-3060 (2016) Read More
Hadden, C.M., D.R. Klimek-McDonald, E.J. Pineda, J.A. King, A.M. Reichanadter, I. Miskioglu, S. Gowtham, G.M. Odegard, "Mechanical Properties of Graphene Nanoplatelet/Carbon Fiber/Epoxy Hybrid Composites: Multiscale Modeling and Experiments", Carbon, Vol. 95, 100-112 (2015) Read More
Jensen, B.D., K.E. Wise, G.M. Odegard, "The Sensitivity of ReaxFF Simulations to Tensile Failure of Diamond, Graphene, and Carbon Nanotube to Simulation Parameters", Journal of Computational Chemistry, Vol. 36, no. 21, pp. 1587-1596 (2015) Read More
Yuan, Y., A. Nie, G.M. Odegard, R. Xu, D. Zhou, S. Santhanagopalan, K. He, H. Ardakani, D. Meng, R.F. Klie, C. Johnson, J. Lu, R. Shahbazian-Yassar, "Asynchronous Crystal Cell Expansion during Lithiation of K+-Stabalized α-MnO2", Nano Letters, Vol. 15, no. 5, pp. 2998-3007 (2015) Read More
King, J.A., W.A. Pisani, D.R. Klimek-McDonald, W.F. Perger, G.M. Odegard, "Shielding Effectiveness of Carbon Filled Polycarbonate Composites", Journal of Applied Polymer Science, Vol. 132, no. 43, 42719 (2015) Read More
King, J.A., D.R. Klimek, I. Miskioglu, G.M. Odegard, "Mechanical Properties of Graphene Nanoplatelet/Epoxy Composites", Journal of Composite Materials, Vol. 49, no. 6, pp. 659-668 (2015) Read More
Jensen, E.R., D.A. Morrow, J.P. Felmlee, G.M. Odegard, K.R. Kaufman, "Error Analysis of Cine Phase Contrast MRI Velocity Measurements used for Strain Calculation", Journal of Biomechanics, Vol. 48, no. 1, pp. 95-103 (2015) Read More
Kumar, A., S. Li, J.A. King, G.M. Odegard, S. Roy, "Fracture Properties of Nanographene Reinforced EPON 862 Thermoset Polymer System", Composites Science and Technology, Vol. 114, no. 19, pp. 87-93 (2015) Read More
Asayesh-Ardakani, H., A. Nie, P.M. Marley, Y. Zhu, P. Phillips, S. Singh, F. Mashayek, G. Sambandamurthy, K.B. Low, R.F. Klie, S. Banerjee, G.M. Odegard, R. Shahbazian-Yassar, "Atomic Origins of Monoclinic-Tetragonal (Rutile) Phase Transition in Doped VO2 Nanowires", Nano Letters, Vol. 15, no. 11, pp. 7179-7188 (2015) Read More
King, J.A., W.A. Pisani, D.R. Klimek-McDonald, W.F. Perger, G.M. Odegard, D.G. Turpeinen, "Shielding Effectiveness of Carbon Filled Polypropylene Composites", Journal of Composite Materials, Vol. 50, no. 16, pp. 2177-2189 (2015) Read More
Jensen, B.D., K.E. Wise, G.M. Odegard, "Simulation of the Elastic and Ultimate Tensile Properties of Diamond, Graphene, Carbon Nanotubes, and Amorphous Carbon Using a Revised ReaxFF Parameterization", Journal of Physical Chemistry A, Vol. 119, no. 37, pp. 9710-9721 (2015) Read More
Odegard, G.M., B.D. Jensen, S. Gowtham, J. Wu, J. He, Z. Zhang, "Predicting Mechanical Response of Crosslinked Epoxy using ReaxFF", Chemical Physics Letters, Vol. 591, pp. 175 - 178 (2014) Read More
Gao, Q., G. Meng, A. Nie, F. Mashayek, C. Wang, G.M. Odegard, R. Shahbazian-Yassar, "Direct Evidence of Lithium-Induced Atomic Ordering in Amorphous TiO2 Nanotubes", Chemistry of Materials, Vol. 26, no. 4, pp. 1660-1669 (2014) Read More
Adhikari, S., H. Wang, Z. You, G.M. Odegard, P. Hao, "Modeling of the Asphalt Concrete to Compare Uniaxial, Hollow Cylindrical, and Indirect Tensile Test", International Journal of Pavement Research and Technology, Vol. 7, no. 5, pp. 352-360 (2014) Read More