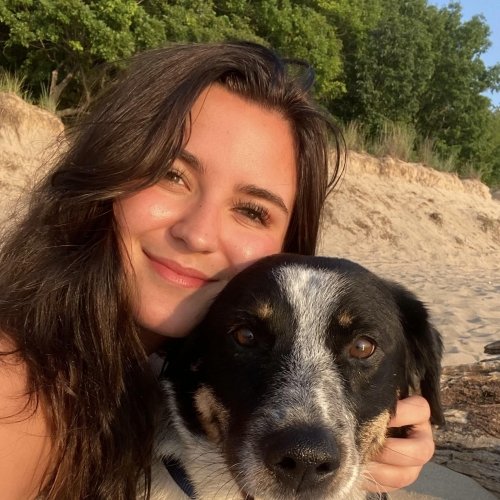 Michigan Tech relies on small businesses and small businesses rely on Michigan Tech. At the Upper Peninsula regional Michigan Small Business Development Center (SBDC) office, located within the College of Business, demand has more than doubled since the start of the pandemic.
"We are the boots on the ground," said Daniel Yoder, regional senior business consultant.
With 11 regional offices and more than 20 satellite offices, the Michigan Small Business Development Center is a partnership funded by the US Small Business Administration (SBA) and the Michigan Economic Development Corporation (MEDC). Along with local partners, it provides consulting, training, and research to assist small businesses to launch, grow, transition, and innovate.
To help serve UP businesses, the SBDC hired Michigan Tech business students as interns.
One student, Anna Nault, a fourth-year management major, is serving as the SBDC intake administrator for the entire UP. She's the first point of contact for incoming clients and single-handedly triages, fields, and tracks inquiries before assigning them to the appropriate consultant.
"We entrust Anna to use her judgment to route inquiries appropriately and to maintain confidentiality—that's a huge aspect of her responsibilities. In addition, she developed a tracking system, so we can be sure no one falls through the cracks during the process," Yoder said.
While Nault is assisting entrepreneurs, she's also receiving help. "I'm learning about what it takes to be a part of a team of professionals and familiarizing myself with business in the real world," she said. "I know this experience will benefit any career I choose, or help me out one day if I start my own business."
Follow the Michigan Small Business Development Center (Upper Peninsula Region): facebook.com/MISBDCUpperPeninsula
Michigan Technological University is a public research university founded in 1885 in Houghton, Michigan, and is home to more than 7,000 students from 55 countries around the world. Consistently ranked among the best universities in the country for return on investment, Michigan's flagship technological university offers more than 120 undergraduate and graduate degree programs in science and technology, engineering, computing, forestry, business and economics, health professions, humanities, mathematics, social sciences, and the arts. The rural campus is situated just miles from Lake Superior in Michigan's Upper Peninsula, offering year-round opportunities for outdoor adventure.