Kevin Trewartha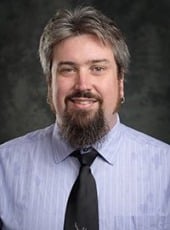 Contact
906-487-3206
Meese Center 211
Associate Professor, Cognitive and Learning Sciences
Associate Professor, Kinesiology and Integrative Physiology
Graduate Program Director, Cognitive and Learning Sciences
PhD, Psychology, Concordia University, Montreal, QC, Canada, 2012
MA, Psychology, Concordia University, Montreal, QC, Canada, 2007
BA, Psychology and Philosophy, University of Western Ontario, 2004
Biography
Dr. Trewartha is an Associate Professor at Michigan Technological University in the Department of Cognitive and Learning Sciences, and the Department of Kinesiology and Integrative Physiology. He specializes in cognitive neuroscience of aging with a focus on the cognitive mechanisms of motor behavior. These interests fall into two main streams: 1) identifying the changes in neurocognitive mechanisms in healthy aging and dementia that contribute to motor performance impairments in later adulthood, and 2) developing interventions aimed at improving cognitive and motor function in older populations. The overarching goal of this research is to understand the cognitive, computational, and neural basis of motor behavior, and to identify age-related changes in these factors.
Links of Interest
Research Interests
Cognitive Aging
Cognitive Neuroscience
Motor Learning
Sensorimotor Control
Memory
Cognitive Control
Rajeshkumar, L. & Trewartha, K. M.(2019). Advanced spatial knowledge of target location eliminates age-related differences in early sensorimotor learning. Experimental Brain Research, 237, 1781-1791.

Trewartha KM, Flanagan JR (2017). Linking actions and objects: Context-specific learning of novel weight priors, Cognition, 163: 121-127.

Trewartha, K. M. & Flanagan, J. R. (2016). Distinct contributions of explicit and implicit memory processes to weight prediction when lifting objects and judging their weights: an aging study Journal of Neurophysiology 116: 1128–1136.
Korotkevich, Y., Trewartha, K. M., Penhune, V. B., & Li, K. Z. H. (2015). Effects of age and cognitive load on response reprogramming. Experimental Brain Research, 233, 937-946.
Trewartha, K. M., Case, S., & Flanagan, J. R. (2015). Integrating actions into object location memory: A benefit for active versus passive reaching movements. Behavioural Brain Research, 279, 234-239.
Trewartha, K. M., Garcia, A., Wolpert, D. M., & Flanagan, J. R. (2014). Fast but Fleeting: Adaptive Motor Learning Processes Associated with Aging and Cognitive Decline. Journal of Neuroscience, 34, 13411-13421.
Trewartha, K. M. & Phillips, N. A. (2013). Detection of errors during self-produced speech: An ERP investigation. Frontiers of Human Neuroscience. 7, 763.
Trewartha, K. M., Spilka, M., Penhune, V. B, Li, K. Z. H., & Phillips, N. A. (2013). Context updating processes facilitate response reprogramming in younger but not older adults. Psychology and Aging, 28, 701-713.
Complete list of publications available in CV.
National Institutes Health (NIH) 1R15AG059095-01 "Motor Learning as a Sensitive Behavioral Marker of Mild Cognitive Impairment and Early Alzheimer's Disease."
Michigan Technological University Research Excellence Fund (REF) R01545 REF-FY-18 "Fighting Aging with Exercise: Improvements in Cognitive and Physical Function through Resistance Training in Older Adults."
Motor Learning and Control [KIP4300]
Advanced Motor Learning and Control [KIP5300]
Physiological Psychology [PSY3060]
Aging Brain and Cognition [PSY4080]