1400 Townsend Drive
New deans on board
Michigan Tech has seen sweeping changes in academic leadership over the past few months, with three new deans taking the helm in the College of Engineering, the School of Forest Resources and Environmental Science, and the School of Business and Economics.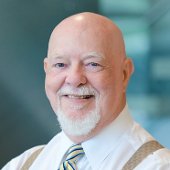 R. Gene Klippel, business and economics
Klippel, who served as dean of the School from 1994 to 2003, has returned to his former post. While at Michigan Tech, he led the School to accreditation by the Association to Advance Collegiate Schools of Business–International.
After leaving Tech in 2003, Klippel became the founding dean of the College of Management at the University of Wisconsin–Stout and later dean of the College of Business at the University of Southern Indiana.
In addition to his academic experience, he has conducted extensive research in marketing and has served as a consultant to Fortune 500 companies.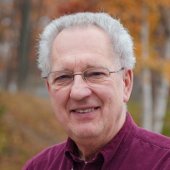 Terry L. Sharik, forest resources and environmental sciences
It's also a homecoming for Sharik, who was on the School's faculty from 1986 to 1993. In the intervening years, he headed the Departments of Forest Resources and Environment and Society at Utah State University.
Sharik helped establish the Gombe School of Environment and Society (GOSESO) in Tanzania and is a fellow of the Society of American Foresters.
"I am thrilled and honored to be the dean of forest resources and environmental science, and I hope that together, the faculty, staff, students, and I can make some really great things happen," Sharik said.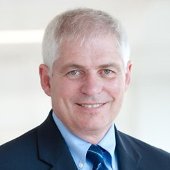 William M. Worek, engineering
Worek is the former head of the Department of Mechanical and Industrial Engineering at the University of Illinois at Chicago and served as director of its Energy Resources Center. Research expanded significantly under his leadership, and he is also recognized for his teaching, receiving the UIC College of Engineering's award for teaching excellence.
"I look forward to building on the success of the College's undergraduate program to further the growth and reputation of its graduate program," Worek said. "In addition, Michigan Tech is well-placed to expand its role as a research arm of industry, and I also look forward to facilitating that effort."
In addition to serving as dean, Worek is the Dave House Professor.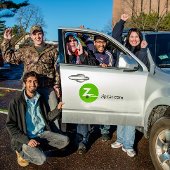 Zip-a-dee-doo-dah!
Sure, cars are handy, but they aren't cheap, and there's always that pesky parking business. Now, Tech students and employees can rent vehicles worry-free for under $10 an hour, thanks to a new partnership between the University and Zipcar, the world's leading car-sharing network.
Members of the Michigan Tech community can join Zipcar for a $25 annual fee. Rates for Zipcar vehicles start at $7.50 an hour and $69 a day. The cost includes gas, insurance, reserved parking spots, up to 180 miles of driving a day, and roadside assistance.
Two vehicles—a Ford Focus and a Ford Escape—are now available in reserved parking spots across from the Memorial Union.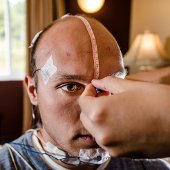 Michigan Tech, Portage Health team up on sleep studies
At Portage Health's Sleep Disorders Center in Hancock, Jason Carter and Carl Smoot, DO, are trying to assess what causes sleep apnea, what makes it worse, and how to stop it.
"Our long-range goal is to influence therapeutic strategies for sleep apnea patients," said Carter, chair of kinesiology and integrative physiology at Michigan Tech.
Sleep apnea occurs in some 30–40 percent of men and 20–30 percent of women and is marked by the stopping of breathing, as often as thirty times an hour. It is related to obesity and has been linked to asthma, diabetes, and an increased risk of stroke and heart attack.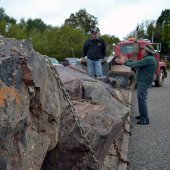 Bill Rose, right, directs the unloading of rocks for the Mining Boulder Garden.
Rock on
Michigan Tech is getting a different kind of rock garden. Its centerpiece is a boulder created in a cataclysm almost two billion years ago. This relic is surrounded by mine rock that makes it seem youthful by comparison.
The new Mining Boulder Garden, on the east end of Fisher Hall, will highlight the Upper Peninsula's mining heritage and Michigan Tech's role in the industry. The banded mine rock, donated by Cliffs Natural Resources, was formed about three billion years ago, when black iron oxide was sandwiched between bands of rusty quartz.
The three-ton boulder originated when a massive meteorite slammed into what is now Sudbury, Canada, hurling debris hundreds of miles through the air. "This is the best piece of its kind around, a cosmic oddity," says Michigan Tech volcanologist Bill Rose, who spearheaded the garden's creation. "We're really lucky to have it."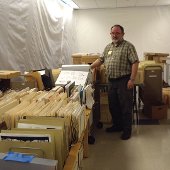 Erik Nordberg, post-fire, in a drying area for damp documents
Archives hit by fire, flood
The Michigan Tech Archives remains closed following an October 26 fire in the stacks, where many documents are stored. The fire was contained within a few square yards, but water damage was extensive. The floor was flooded, and several stacks of documents were heavily sprayed by the sprinklers and fire hoses.
Dozens of faculty, staff, and students rushed to the rescue, reboxing and sorting the soggy papers and photographs. That night, a total of 688 boxes of documents were shipped out to be freeze-dried. "We were genuinely overwhelmed by the outpouring of assistance," said Archivist Erik Nordberg.
Less than 20 percent of the documents in the archives stacks were affected. Nordberg estimates that only a small amount of material may be damaged beyond repair.
Michigan Technological University is a public research university, home to more than 7,000 students from 54 countries. Founded in 1885, the University offers more than 120 undergraduate and graduate degree programs in science and technology, engineering, forestry, business and economics, health professions, humanities, mathematics, and social sciences. Our campus in Michigan's Upper Peninsula overlooks the Keweenaw Waterway and is just a few miles from Lake Superior.