Alumni Association Notes
Q&A with Darnishia Slade '98
President, Michigan Tech Alumni Association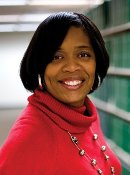 Why did you come to Michigan Tech?
In high school, people said I was good in math and science, so I should go to Michigan Tech. I had never heard of it. In fact, I had never been north of Saginaw. Betty Chavis [director of outreach and multiethnic programs, now retired] came to my high school and did a presentation about Michigan Tech, but I had no intention of going. However, the summer of my senior year, I went to Tech for a summer engineering program, and I fell in love with the place.
What was the most important thing you learned in college?
I felt like I grew up so much. It was a culmination of all my experiences: the time in the classroom, changing my major, the people I met. I had a Michigan Tech experience, and that is what I like to share with others, that and my passion and love of the University. I'll always be in debt to Michigan Tech.
Describe your work and its challenges.
I am Michigan Tech's assistant director of international programs and services. I recruit international students, and I encourage current students to study abroad. The challenge we have right now is to share how important a study-abroad experience is. When I was a student, I went to Finland and studied international business for a year, and it opened up a whole new world for me.
What are your hobbies and diversions?
I love people. My hobby is family. I love comedy, so I love to laugh. The free time that I have I spend with people who are important to me, even if it's just going for ice cream.
Tell something that people would be surprised to know about you.
I am an ordained minister.
What do you hope to accomplish as president of the Alumni Association?
My intention is service and legacy. I believe that the alumni board has a passion to be of service to our colleagues, our friends, and, to a greater extent, the current staff and student body. Another priority for me is to have an international representative on our alumni board before my term is up. We are moving in that direction in our student body and our alumni, and I'd like to see that they have a voice.
Anything else you'd like to share?
I believe I am the first African American president of the Alumni Association and only the second female. That's powerful to me. I am so honored and humbled by this assignment, and I want to do my best.
Presidential Council of Alumnae inducts new members
The Michigan Technological University Presidential Council of Alumnae (PCA) welcomed eleven new women to their ranks this fall. They are recognized for educational excellence, professional accomplishment, past student service, current community service, University support, and personal achievement.
The PCA advises the University president on campus climate issues and provides suggestions for enhancing the University's environment for students, especially women. Members assist the president by identifying activities and programs that will benefit Michigan Tech students and work with University departments to implement their ideas.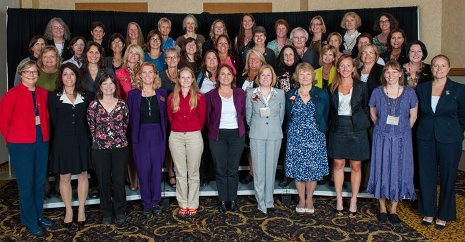 2012 inductees
Michelle L. Banonis '99, environmental engineering, project manager, US Department of the Interior, Bureau of Reclamation, Stockton, California
Janet E. Burge '84, computer science, assistant professor, Miami University, Oxford, Ohio
Laura K. Farrelly '93, mechanical engineering, vice president of Microsoft Alliance, NewsGator Technologies, Boulder, Colorado
Pamela Rogers Klyn '93, mechanical engineering, general manager of cooking products, North America, Whirlpool Corporation, St. Joseph
Adrienne R. Minerick '98, chemical engineering, associate professor, Michigan Technological University
Paula J. (Eilola) Nutini '85, business administration, director of annual giving, Michigan Technological University
Hatice Orun Ozturk '83, electrical engineering, teaching associate professor, North Carolina State University, Cary, North Carolina
Suzan C. (Ravi) Phelps '80, metallurgical engineering, director of strategic sourcing, Hartzell Propeller, Piqua, Ohio
Sylvia A. (Matranga) Salahutdin '91, mechanical engineering, entrepreneur, Little Caesars, York, Pennsylvania
Deborah L. (Maddix) See '89, electrical engineering with computer option, project manager, Extreme Technologies, Hancock
Jane L. (Grady) Waldron '83, general engineering, environmental engineer, Dow Corning, Midland
For more about the PCA, visit www.pca.mtu.edu.
To the moon, Adam
The students in Kingsford High School's high-powered rocketry program could think of no better way to honor their hero, Adam Savage of Mythbusters, than to strap him in effigy onto their missile. He and the rocket were fired skyward as part of the Large and Dangerous Rocket Ships extravaganza, held July 15 in New York. They placed second in the Odd Roc category, competing against the likes of a flying grandfather clock and a flying 1960s television set.
Science teacher Bill Bertoldi '80 advises the group, which he launched in 1997 with help from Tech physics professors Bryan Suits and Bruce Rafert. Since then, many students in the rocketry program have been inspired to further their studies at Michigan Tech. Pictured, left to right, are Sam Whitens '16, Hilden Beaudion, Rachel Schroeder, Conrad Shehan, and Bertoldi.

Show your Michigan Tech pride on your ride
Proudly display your alma mater wherever you drive and know that you are supporting Michigan Tech programs for alumni and students.
Choices include an official license plate (regular or personalized) for Michigan residents or a collector plate for alumni living in other states and provinces.
Visit www.mtu.edu/alumni/benefits for details.
It's your year!
Make plans to join your classmates on campus for Alumni Reunion 2013, set for August 1–3.
The featured classes will be the Golden Ms (those who graduated fifty-plus years ago) and the classes of '63, '73, '83, '88, '93, and '03.
A group reunion is planned for Huskies Football alumni, and there will be a special event in honor of the women of Michigan Tech hosted by the Presidential Council of Alumnae.
Reconnect with your classmates and check out what's new at Michigan Tech.
Visit www.mtu.edu/reunion for details.

The Third Annual Snowfall Contest is now open!
Accurately predict the total amount of snow to fall in the Copper Country this winter, and you could win a Michigan Tech Winter Survival Kit and a two-night stay in one of our campus guest rooms.
Last season, the Snowfall Contest generated 944 entries ranging from a low of 73.8 inches to a high of 400 inches.
According to the Keweenaw Research Center snowfall records, a total of 132 inches fell in the Keweenaw during the 2011–12 season. Scott Yager, a 2010 electrical engineering alumnus, came the closest without going over with his prediction of 131.5 inches. By coming within a half inch of the total amount, Scott won the grand prize, and Brian Baldwin, a 1989 computer science alum, was chosen at random from all entries to receive the consolation prize.
Visit http://apps.alumni.mtu.edu/snow and cast your vote in the Third Annual Snowfall Contest for a chance to win a two-night stay on campus and a Michigan Tech Winter Survival Kit.
Check out www.mtu.edu/memories/snow to read the memories posted by alumni and friends and post your own stories about winter at Tech.
Michigan Technological University is a public research university, home to more than 7,000 students from 54 countries. Founded in 1885, the University offers more than 120 undergraduate and graduate degree programs in science and technology, engineering, forestry, business and economics, health professions, humanities, mathematics, and social sciences. Our campus in Michigan's Upper Peninsula overlooks the Keweenaw Waterway and is just a few miles from Lake Superior.