Fall 2013 Class Notes
Class Notes
What's up with you? Submit your own class note and photo online at MyMichiganTech or email us at techfund@mtu.edu.
1930s
Jim Westwater '34 (Mining Engineering) died March 3. For his 100th birthday, Alumni Relations gave him a Tech track jacket, which he wore almost every day after it was presented to him in December 2012 by President Emeritus Ray Smith. Jim's involvement with Tech began when he was a cheerleader in 1930, and among his accomplishments, he was part of the startup of the Tech Fund. Unable to make his seventy-fifth class reunion in 2009, he asked Alumni Relations Director Brenda Rudiger to make a speech on his behalf. It concluded, "I raise my glass to us all and leave you with the toast of the Class of 1934. Hi there, waiters, steam big beers, MCM engineers! Bevel gears, devil keers, what the he**, engineers!"
1950s
Richard "Dick" Treviranus '51 (Mechanical Engineering) died June 9. He was active in the Boy Scouts for seventy- five years, receiving the Silver Beaver and the God and Service awards. He worked thirty-eight years with Ladish Company. His wife, Virginia, has made a gift to the Michigan Tech Fund in his memory to support International Senior Design.
1960s
Franklin Weigold '60 (Electrical Engineering) has been named chairman of the board of Hittite Microwave, a publicly traded company with a market capitalization in excess of $2 billion.
Thomas Mitchell '69 (Mechanical Engineering) has embarked on his fifth career, this time as a ski instructor for Vail Resorts at Breckenridge, teaching adults on Peak 8. He is also a part-time independent contractor and worked for US2 (United Solutions and Services) out of Dallas last September and November overseeing the installation of steam traps at Atsugi Naval Air Station in Japan. He also had the pleasure of winning the NORAD Cup in Colorado Springs in April while playing hockey on the same line as his twenty-four- year old son, Josh. Mitchell was a member of Lake Superior State's first hockey team prior to moving on to Michigan Tech to finish his ME degree—and still has all his teeth.
1970s
Kenneth Saari '78 (Civil Engineering) recently retired from Detroit Diesel, a division of Daimler AG, located in Redford. He served in technical services and was responsible for plant engineering, environmental compliance, and maintenance operations.
1980s
Patrick Kilroy '83 (Electrical Engineering) asks, "Hey! Anyone from our Class of 1983 going to our 30-year reunion this summer? I certainly hope to. I'd like to know who I might see there! Cheers, Pat." We hope you made it, Pat.
Robert "Bob" Wilson '87 (Mechanical Engineering) has been named vice president, international division at Intelligrated, the automated material handling solutions provider. Intelligrated is headquartered in Mason, Ohio.
1990s
Karen A. Swager, PE '92 '94 (BS and MS, Metallurgical and Materials Engineering) and has been promoted to vice president–mining operations of Mosaic Fertilizer in Lithia, Florida. She will oversee Mosaic's mining operations in central Florida and global joint ventures.
J. Carson '95 (Mechanical Engineering) and Helen (Hamlin) Mantooth '97 (Electrical Engineering) announce the birth of their fifth child: Daniel Joseph, born January 5, weighing 9 pounds, 7 ounces. His four sisters are enjoying him.
Scott L. Hudson, PE '96 (Civil Engineering) is now a project manager with Lockwood, Andrews and Newnam in its Dallas, Texas, Transit group. Scott will be responsible for design, management, plans production, and staff oversight on the company's transit projects.
Sara L. Zimmer '96 (Biological Sciences and Chemical Engineering), who earned a PhD from Cornell University, joined the faculty of the University of Minnesota School of Medicine, Duluth campus, as an assistant professor in the Department of Biomedical Sciences in September 2013.
Robert Hall '97 (BS, Electrical Engineering Technology) is now a department manager in the Industrial Systems Division of Matrix Technologies based in Maumee, Ohio, where he now lives. Rob married Anna Hall in January 2009 and welcomed Koralia "Kora" Hall to the family on March 9.
2000s
Christopher and Jill Carr '00 (Scientific and Technical Communication) announce the November 5 birth of Julia Jade. Big brother Sam (born November 17, 2008) is very happy to welcome her.
Janelle (Meyer) '01 (Chemical Engineering) '03 (MS, Chemical Engineering) and Curt Trowhill '03 (Mechanical Engineering Technology) welcomed William Dean on October 16.
Kelly Fedele '03 (Surveying) of Southgate has been appointed by Governor Rick Snyder to serve on the Michigan Board of Professional Engineers for a four-year term that expires March 2017. Kelly currently is DTE Energy's principal account manager for gas major accounts.
Adam '04 (Mechanical Engineer- ing) and Bethany Podleski '04 (Civil Engineering) welcomed into the world their third child, Laney Melissa, on April 4. Jacob and Leanne (Sedar) Neal '08 (Materials Science and Engineering) announce the birth of a son, Jack Wesdon, on February 28.
David '08 (Mechanical Engineering) and Rachel Wingard welcomed their second son, Aaron Patrick, born February 22. He weighed 8 pounds, 10 ounces, and was 19.5 inches long.
Daniel Winkler '09 (Wildlife Ecology and Management) completed his first year teaching physical and earth science at Notre Dame Academy in Green Bay, Wisconsin.
Scott Nelson '10 (Materials Science and Engineering) has completed his MS in Metallurgical and Materials Engineering at the Colorado School of Mines and began his career in June with Rolls- Royce as a joining engineer in Indianapolis.
Nikki '11 (English, Communication and Culture Studies) and Audrey Reenders- Arens '11 (Scientific and Technical Communication) met while playing hockey for the Tech women's club team in fall 2008 and entered into a civil union on April 14, 2012, in Chicago. They moved back to Houghton in January to begin their fulltime dream jobs: Audrey as an instructional technology specialist at Michigan Tech and Nikki as the youth programs coordinator for the Keweenaw Bay Indian Community.
In Memoriam
The Michigan Tech family extends condolences to the relatives and friends of those who have passed away recently.
1934

Dr. James S. Westwater

1938

Arthur W. Olschefski

1940

Karl R. Bowman
Moses A. Levinstein

1942

Bruce T. MacArthur
Dr. Oliver H. Winn, PE

1943

Edwin S. Wiitala

1945

Clarence R. Monette

1947

Liliaan H. (Heikkinen) Beck
Norman S. Eddy
Lawrence W. Stewart

1948

Clarence I. Giuliani
Alex S. Urbaniak

1949

Clements P. Dragicevich
William I. Kargela
Robert J. Peterson
Robert J. Woelk

1950

David G. MacDougall
Edward T. Zulkofske

1951

Paul T. Freeman
Donald E. Holstein

1952

Edward O. Berg
Curtis J. Berklund
William H. King Jr.

1953

Philip G. Hildebrand
Erwin G. Lambrecht

1954

Floryan B. Wercinski

1955

Arthur S. Brookman, PE
Norman K. Jensen

1957

Cameron A. Hopper
Elden L. Lippo
David K. Mitchell

1958

John F. Fuller

1959

Commander Robert H. Sisson (Ret.)

1963

Glenn M. Carollo
Richard M. Wiitanen

1964

Chester H. Schwerin

1965

David R. Cashbaugh
F. Bruce Hoornstra
Roger L. Rogge

1969

David H. Blohm

1970

William J. Ballosh
Dale C. Rauh

1972

Robert M. Wilson

1975

Richard A. Zelmer

1978

George W. Hyde Jr.

1980

Carl L. Chritz, PE

1982

Lieutenant Colonel Rodney L. Fausett
James Foss
Dennis D. Oliver
Rhoda J. Reini

1983

Kelly J. (Kyes) Wells

1985

Shawn R. Reilly

1990

Mark A. Davis
---
Transitions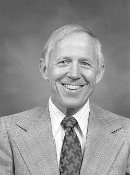 Peter Biesiot
Dean of business and engineering administration
1921–2013
Peter G. Biesiot, who served as dean of the School of Business and Engineering Administration in the 1970s, passed away on March 20 at the age of ninety-two.
"Dean Biesiot was an administrator who could think outside the box," said business professor Paul Nelson. "He created innovative graduate programs and began the Women in Business summer sessions to attract high school girls to what was in the early 1970s a nontraditional field."
His career in education included appointments at Clarkson College of Technology and Michigan Tech, with many summer teaching positions overseas. He ultimately retired as professor emeritus from the School of Business at the University of Alaska Fairbanks.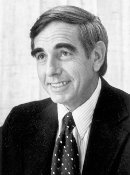 Calvin Gale
Dean of special academic programs
1928–2013
Calvin Gale, who launched the Summer Youth Program, died May 31, at Omega House in Houghton.
In 1969 he became the first director of teacher education at Michigan Tech. He also held the positions of academic vice president and then dean of special academic programs until his retirement in 1989.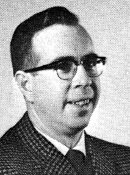 Jack Holland
Professor and director, clinical laboratory sciences
1925–2013
Jack Holland, former director of Michigan Tech's clinical lab sciences program, died March 2, at his home.
Holland attended Michigan Tech until 1943 when he enlisted in the Navy and served in the South Pacific during World War II. He returned to Michigan Tech, where he earned bachelor's and master's degrees in chemical engineering.
After working in industry, he came back to Michigan Tech in 1963, earned his PhD, and served as direc- tor of the clinical laboratory science (medical technology) degree program until his retirement in 1988.
"He started the medical technology program," said Alice Soldan, senior lecturer of clinical laboratory science. "He was a very personable and caring professor and advisor. He was a wonderful mentor, and I am thankful to have had him." Holland also won Michigan Tech's Distinguished Teaching Award.
During his teaching career at Michigan Tech, he was responsible for the graduation of over one thou- sand clinical laboratory science bachelor's students, sixteen biological sciences master's students, and two biological sciences PhD students. His research work extended from award-winning publications in clinical chemistry and cancer research to extensive work with the DNR on the blood chemistry of the Michigan deer herd.
A scholarship fund has been established in Holland's memory. For more information, contact the Michigan Tech Fund at 906-487-2310 or techfund@mtu.edu.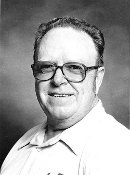 Sheldon "Moose" Larson
Athletic coach
1924–2012
Longtime Michigan Tech equipment supervisor and coach Sheldon "Moose" Larson passed away at his Hancock home December 7. He was eighty-eight years old.
Larson originally came to Houghton in 1958 as a member of the US Air Force working with the University's ROTC program. He served as rifle coach from 1959 to 1975, assistant football coach from 1964 to 1965, equipment supervisor from 1966 to 1986, and golf coach from 1975 to 1980. He retired in 1986 but remained involved in Michigan Tech athletics, serving as the official timekeeper for basketball games until 1992, when he was inducted into the Michigan Tech Sports Hall of Fame.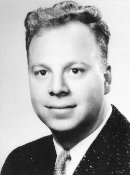 Charles Moskowitz
Member and chair, Board of Trustees
1924–2013
Charles Moskowitz, of Mt. Pleasant, died May 20, at his home. He was a member of the Michigan Tech Board of Trustees in the 1960s.
Among his accomplishments, he helped pave the way for the modern University campus by successfully lobbying the chairman of the State Senate Finance Committee for funding for the Chemical Sciences and Engineering Building (formerly known as Chem-Met). Michigan Tech's first "high rise" was built in 1968.
His obituary describes him as someone with "a zest for life that was contagious to those around him." Moskowitz spent most of his career as an independent oil and gas producer, and, as befits a person in that line of work, he had more than the average share of verve and daring. A pilot schooled in the Army Air Corps during World War II, Moskowitz once made an emergency landing in his Piper Tri-Pacer on the stamp sands near Tech when weather conditions prevented him from landing at the county airport.
Former Board member Jim Mitchell '65 recalled Moskowitz as being a "loyal Tech man" who remained very involved with the University, especially with downstate Tech gatherings over the years.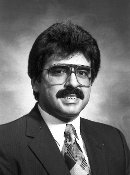 George Trevino
Associate professor of mechanical engineering
1942–2013
George Trevino, former associate professor of mechanical engineering, died of cancer on March 16, in San Antonio, Texas. He was seventy years old.
Trevino joined the Department of Mechanical Engineering–Engineering Mechanics in 1983 and retired in 1998 to San Antonio, where he continued his research.
---
Retirements
The following faculty and staff retired from Michigan Tech recently. The years they first came to Tech are listed below.
Marilyn Cooper, professor, Humanities, 1986
Elizabeth "Beth" Flynn, professor, Humanities, 1979
Peter Hahn, custodian, Keweenaw Research Center, 1996

Allan Hoffman, lieutenant, Public Safety and Police Services, 1978
Allyson Jabusch, department coordinator, Computer Science, 1992
Donna Krapu, cook, Dining Services, 1989

Paulette Morin, library assistant 5, Van Pelt and Opie Library, 1976
Mary Peters, office assistant 5, Dining Services, 1979
Mary Stimac, custodian, Wadsworth Hall, 1997
Michigan Technological University is a public research university, home to more than 7,000 students from 54 countries. Founded in 1885, the University offers more than 120 undergraduate and graduate degree programs in science and technology, engineering, forestry, business and economics, health professions, humanities, mathematics, and social sciences. Our campus in Michigan's Upper Peninsula overlooks the Keweenaw Waterway and is just a few miles from Lake Superior.