---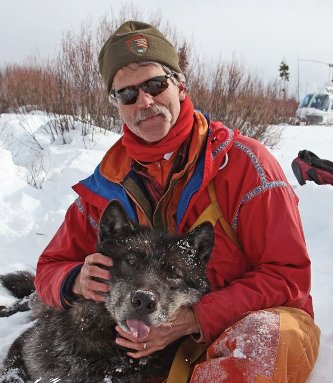 by David McKay Wilson
It's been seventeen years since Smith helped launch the effort to restore wolves to the 2 million-acre park. Today, an estimated ninety-eight wolves in ten packs thrive in Yellowstone. On this crisp February morning, the lanky Smith, dressed in his green wool Park Service uniform with a pair of Nikon binoculars dangling from his neck, talks about how wolves have reacted to the decline in the park's elk herd, their prime prey.
"The wolves and elk are coming into equilibrium as the park's getting restored to its natural condition," says Smith, 51, project leader of the Yellowstone Gray Wolf Restoration Project. "Initially, we had an overpopulation of elk and a surplus of food for the wolves. We now have a leaner, meaner elk herd, and the wolves are having a harder time of it."
Wolves were eradicated from the park, and much of the West, in the early twentieth century. The restoration of wolves to Yellowstone is viewed by wildlife experts as one of America's greatest successes in wildlife management, with the gray wolf off the endangered species list and the Yellowstone ecosystem more like it was before Europeans settled the continent five centuries ago.
Smith's success, however, has run up against virulent anti-wolf sentiment throughout the . . .
---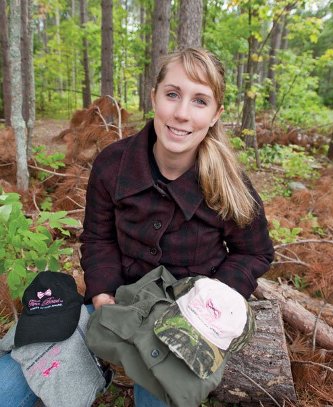 by Jennifer Donovan
It started out as a marketing class assignment: find ways to make students more aware of the Michigan Tech Enterprise Corporation (MTEC) SmartZone's Entrepreneur Support Center (ESC). It wound up turning Jessica Tompkins into an entrepreneur herself.
"When I saw how many resources the Entrepreneur Support Center had to offer, I ended up asking them to help me start my own company," Tompkins says. Her fledgling firm, Two Bows LLC, designs and sells a line of outdoor clothing for women.
The ESC is both a place and a support system. In addition to fully equipped offices in the Jutila Center in Hancock and the Lakeshore Center in Houghton that budding businesses can call home, the ESC provides just about every kind of service a start-up might need: legal assistance, intellectual property counsel, business plan development, accounting and financial management, market research, marketing, and web design.
---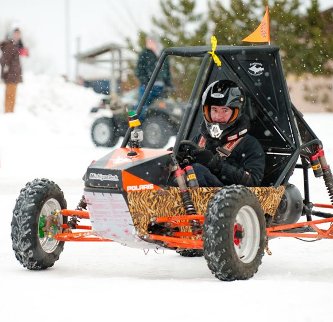 by Dan Schneider
These are baja cars as the Society of Automotive Engineers (SAE) defines them: "off-road vehicles that will survive the severe punishment of rough terrain." Here in Lake Linden, about ten miles northeast of Michigan Tech, rough terrain takes the form of ice-slicked turns and jumps built from snow. Winter Baja is a frozen dress rehearsal for SAE's international baja competitions.
Blizzard Baja team members helped Lake Linden's Department of Public Works design and build this course, which winds a circuitous route through the village's park and campground. Students and locals alike are out to watch baja cars catch air on the snow jumps and rub tires around the turns.
In the field are three generations of Tech's baja cars: No. 73 (the oldest, nicknamed Red Car), No. 43 (East Car), and No. 50 (Widow). These cars from Tech's previous campaigns represent . . .
---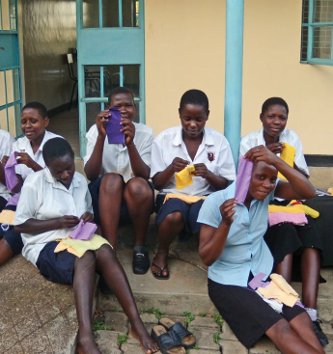 by Jennifer Donovan
They use what?" Stacey Frankenstein-Markon gasped. A graduate student in Michigan Tech's Peace Corps Master's International program in applied science education, she had just arrived in Uganda as a Peace Corps volunteer. And she'd just found out that girls in her African village of Bukedea used rags, old socks, or wads of newspaper to do the job of sanitary napkins.
Frankenstein-Markon soon understood why access to pads was an impossible dream for most girls, who come from families of subsistence farmers making about a dollar a day in disposable income.
"Disposable pads cost a dollar for an eight-pack," explains the Peace Corps volunteer, who is now back at Michigan Tech completing her master's degree. "The average family in Uganda has 7.2 children. If just three of those children are daughters who are menstruating, that family would have to spend 20 percent of its income just on pads. Who can afford that?"
Good "feminine protection" is more than a matter of convenience. In Uganda (as in the United States), menstruation is a taboo topic, and Frankenstein-Markon learned that girls in . . .
---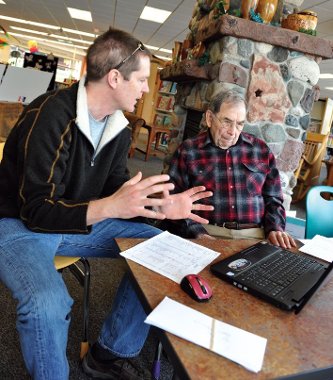 by Marcia Goodrich
Seventy-eight-year-old Fritz Ahola hunches over his laptop. "What's on the list today?" asks Charles Wallace, an associate professor of computer science. "The wife wants to know how to save these files to a disc," Ahola answers. "And, how do we get this picture on my desktop to print?"
You'd think that would be easy, but it isn't, Wallace tells Ahola. "This is actually one of the harder things to do." Then they get down to the business of doing it.
Ahola and a half dozen other people, most of them senior citizens, are here in the Portage Lake District Library on this sunny April day to learn how to use computers. The classes are the brainchild of Wallace, who started the program in October 2011.
Some, like Ahola, have brought their own laptops. Others use the library's computers. They . . .
---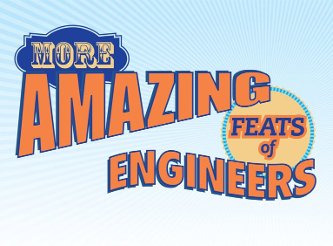 Three more stories of amazing feats of engineering.
---
---
---