Bruce A Barna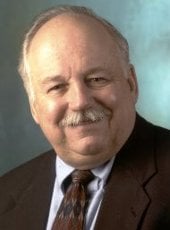 Contact
906-487-2569
Chem Sci 202L
Professor Emeritus, Chemical Engineering
PhD, New Mexico State University
Research Interests
Conceptual process design
Process optimization
Venture analysis
Recent Publications
D. Powell, B. Barna, and P. Sullivan, Optimization of the (C+D)(EO) Bleaching Sequence at Quinnesec, Bleaching: ATAPPI Press Anthology 1987 1990, TAPPI Press, 355 (1991).
Z. Chen, Y. Chen, J. Diebel, V. Chiang, B. Barna, and E. Moffitt, Pulp Characteristics and Mill Economics for a Conceptual SO2 -Ethanol-Water Mill, Proceedings 1990 Pulping Conference, Book 2, TAPPI Press, 657 (1990).
B. Barna and D. Jack, Chem Calc 14R; Boiler Efficiency Analysis, Software #940-3, Gulf Publishing Co., Book and Software Division, Houston, Tex., September 1988
K. Martin and B. Barna, Project Economic Analysis, Chemical Engineering 91, 15, 73 (1984).