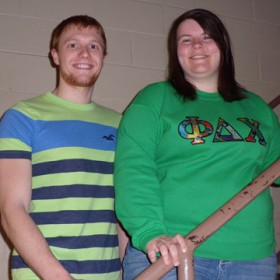 The students are the best part of working at Tech. As these Huskies got their diplomas (or at least the container with a note that said, "It's coming. Pay your parking tickets," or something like that), I had special connections to some of them.
Our office is lucky to have student employees who work hard, make us laugh, and keep us young. In fact, two of the Commencement stories below were written by students.
Lilly Manns was another great addition to our crew. She was a designer for us and also worked with the Velovations Enterprise team that designs and builds bicycles.
Her fondest memory? "Participating in the first snow polar plunge tradition my first year," she says. "After the first snow, we ran down to the Portage, jumped in, and then proceeded to run to all the saunas on campus! It was a really funny and happy bonding experience, and I'm still friends with most of those guys today."
She says she'll miss broomball, walking around campus, and the Tech camaraderie. She'll be using her STC degree with Target in Minneapolis as a business analyst, near her hometown of Maplewood.
Another batch of students, who somehow got through Tech in four years, had to endure a special hardship. Their first class, literally, was an eight o'clock. Taught by me.
None of us could believe it had been four years and all the changes we'd been through. They admitted to not remembering much about the class other than, "Why did I sign up for an eight o'clock?"
Rob Sullivan, a CS and math major from Iron Mountain, will be working with Epic, who develop software for healthcare companies. He'll be in Madison.
His fondest memory is  "Winning the all-nighter statue competition freshman year." He'll miss his friends and all the cool people here, and he won't miss shoveling snow and taking exams.
He played a lot of sports as a student, including broomball and Frisbocky, where he broke his hand. He had a lot of family coming up from Iron Mountain.
Alli Struthers, a bio sci major from Hancock, is planning on attending grad school and get into water ecology, maybe at Tech.
She enjoyed her sorority, Phi Delta Chi, and working on the Student Entertainment Board. "I also liked some of the labs, like limnology, where we got to go out on the Agassiz," she said. "And the tropical biology course that we had in the Bahamas."
She made many friends in her classes and will miss Tech's sense of community. "You say hi to everyone."
Finally, Ashleigh Sleeper will remember the first time she went snowmobiling in the Keweenaw. "It was absolutely beautiful riding around in the snow-covered trees."
She'll miss her friends, who are  fanning out around the country, and she won't miss the snow. She was involved in Epsilon Pi Tau Honor Society and the Michigan Tech Women of Promise. She was also a tour guide for Admissions.
Her plans include using her CNSA degree in IT for Dow Corning in her hometown of Midland.
Well, they looked grown up, a long way from the sleepy-eyed first year students who endured that eight o'clock. We'd seen many changes, lost some loved ones, and gained some new ones.
It's always rewarding watching them walk across the stage, especially when we know them. They are are off to a great start, and we hope we helped a bit along the way.
More Commencment photos.
Snowfall Totals
In the ultimate Freudian slip, I forgot the totals last time. That's beyond denial.
Keweenaw County: 338.5 inches officially, I've heard as high as 350.
Houghton County highlands: 250 inches, again, unofficial.
Keweenaw Research Center: 209 inches.
Dennis '92, '09