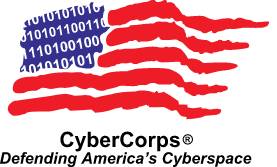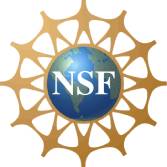 What's New?
Last updated on September 22th, 2022.
1. The next application window for the 2023 CyberCorps cohort is from January 1st, 2023 to February 28th, 2023. The new cohort will receive CyberCorps scholarships starting from Fall 2023. Click here to see how to become a strong CyberCorps candidate.
2. A CyberCorps info session will be held 6pm - 7pm on Tuesday, November 1st, 2022 at Rekhi 113. You may also join the meeting by Zoom. Another similiar info session will be held in Jan. 2023. Click here to view the ppt from previous info sessions.
3. There are ten students currently enrolled in the CyberCorps program. The group attended DEFCON 2022, which is one of the top cybersecurity conferences. All costs were covered by the CyberCorps scholarship.
4. If you have any questions or comments, contact us at: sfs@mtu.edu
What is CyberCorps: Scholarship for Service (SFS)?
CyberCorps® Scholarship for Service (SFS) is a unique national program designed to recruit and train the next generation of information technology professionals, industrial control system security professionals, and security managers to meet the needs of the cybersecurity mission for Federal, State, local, and tribal governments. This program provides full scholarships for two or three years of support for cybersecurity undergraduate and graduate education. In return for their scholarships, recipients must agree to work after graduation for the U.S. Government, in a position related to cybersecurity, for a period equal to the length of the scholarship.
Michigan Technological University is a proud participant in the CyberCorps®: Scholarship for Service (SFS) program through a multi-million dollar grant awarded by the National Science Foundation (NSF) in 2021. The SFS program at Michigan Tech utilizes a multi-disciplinary curriculum model by focusing on cross-cutting cybersecurity education and research areas. The program collaborates with the Pavlis Honors College (PHC) at Michigan Tech to explore a unique strategy for mentoring, advising, and engaging SFS scholars based on a combination of faculty mentoring, peer mentoring, and customized honors pathways.
Scholarship Benefits
SFS scholars (scholarship recipients) shall receive all of the following:
Full-time tuition and education related fees
Stipend: $25,000 per year for undergraduate students and $34,000 per year for graduate students
Professional development allowance (travel, professional certification etc.) up to $6,000 per academic year
In addition, there are many non-financial benefits:
Career development opportunities
Personalized academic advising
Supports from professional communities, and many more.
Obligations for Scholarship Recipient
SFS scholars must agree to:
Work immediately following graduation for the Federal Government or a State, Local, or Tribal Government in a position related to cybersecurity for a period equal to the length of the scholarship
Participate in government internship positions in the summers during the years of scholarship study
Participate in other SFS activities, such as weekly individual meetings, monthly group meetings, cyber competitions, conferences and workshops
Meet other SFS requirements, such as signing Service Agreement Forms and maintaining good academic standing.
SFS scholars are responsible to apply for and obtain a position. Michigan Tech's SFS program will provide assistance to SFS scholars by helping identify employment opportunities.
Eligibility for Scholarship
To be eligible for consideration for the SFS scholarship, the student must meet ALL of the following:
United States citizen or lawful permanent resident;
Meet selection criteria for U.S. federal employment;
Internship placements and final job placements in government organizations typically require high-level security clearances. Scholarship recipients are required to undergo the background investigation necessary to obtain such clearances.
For reference purposes, you can review the federal SF-86 form- Questionnaire for National Security Positions. However, do NOT fill out the form for this SFS application.
Have at least a 3.0 undergraduate GPA;
Current or prospective full-time student pursing cybersecurity related degrees at Michigan Tech;
SFS scholars will be chosen from the following seven BS degrees and one MS degree:
SFS Curriculum Tracks
The Michigan Tech SFS program provides scholarship opportunities with the following flexible tracks. If you are not sure about different options, contact the project PI (Prof. Yu Cai, cai@mtu.edu) to discuss your study plan.

Track 1) BS in Cybersecurity.
Students will receive two-year support (junior + senior year) after applying and being selected as an SFS scholar in their sophomore year.

Track 2) BS in another participating major + a minor in Cybersecurity. Students in this track will be encouraged to include a cybersecurity component in their capstone project.
Students will receive two-year scholarship support (junior + senior year) after applying and being selected as an SFS scholar in their sophomore year.
The minor in Cybersecurity requires 18 credit hours. The minor provides a foundation in cybersecurity to prepare SFS scholars for their post-graduation employment in government agencies.

Track 3) BS in a participating major + an accelerated MS in Cybersecurity.
Students will receive two-year SFS scholarship support (senior year + one year MS) after applying and being selected in their junior year of undergraduate study.

Track 4) Regular MS in Cybersecurity.
Students will receive two-year scholarship support (MS year one + year two) after applying and being selected as an SFS scholar in their senior year.

Track 5) Transfer students from Community Colleges can enroll in Track 1 or Track 2.
Transfer students from community colleges will receive three-year scholarship support (sophomore + junior + senior year) after applying and being selected during their last year at their community college. Most community college transfer students will require three years to complete the BS and/or the minor after transfer.

Track 6) Option for third-year support to pursue an accelerated MS in Cybersecurity.
Students in Track 1 and Track 2 will have an option of extending to a third year to get an accelerated MS in Cybersecurity, with permission of the team that supervises the scholarship program.
Since the SFS program will only provide two or three years of financial support, the program is mainly intended for 2nd, 3rd, and 4th year undergraduate students at Michigan Tech.
If you are a 2nd and 3rd year student, you can choose Track 1, 2, or 3.
If you are a 4th year student, you can choose Track 3 or 4.
If you are a 1st year student or a high school student, we encourage you to actively participate in cybersecurity activities and get prepared for the SFS application.
Transfer students from community colleges will also have the opportunity to participate in the SFS program (Track 5).
Exceptional students from non-computing majors (such as law and policy) who demonstrate strong commitment to cybersecurity career in government agencies will also be considered. Contact the project PI (Prof. Yu Cai, cai@mtu.edu) to discuss your study plan.
Scholarship Application
Application Materials
A complete SFS application must include the following items, in addition to the online application form:
Proof of U.S. Citizenship or lawful permanent resident status
A resume including list of academic recognitions, awards, honors and distinctions received
Transcripts from all of the colleges and universities attended (scanned copies are preferred)
A short essay (no more than 2000 words) OR a short video (no more than 15 minutes) describing the applicant's:


goals and motivations to pursue a career in cybersecurity
commitment to the service obligation and understanding of government jobs
past achievements and experiences related to cybersecurity
leadership, teamwork, and communication skills

Two letters of recommendation. One letter should come from a faculty member at Michigan Tech or your current institution, addressing the applicant's academic performance and potential for success. The second letter, preferably not from a Michigan Tech faculty member, should address the applicant's character and work ethic.
Application Deadline: February 28, 2023

Scholarship opportunities are limited, early application is strongly recommended.

Candidate Selection
This SFS scholarship opportunity at Michigan Tech is a highly selective process and subject to grant funding availability. After initial assessment based on submitted application materials, a shortlist will be generated for in-person interviews. SFS candidates in the shortlist will also be asked to complete a questionnaire for background check.
SFS scholarship recipients are selected based on the following criteria:
Academic performance and potential
Essay/video outlining the applicant's objectives as it relates to cybersecurity and a career in government
Resume highlighting cybersecurity experience and achievements
Letters of recommendation
Ability to obtain security clearance
Interview
What makes you a strong candidate for the CyberCorps scholarship:
Commitment to complete the CyberCorps program successfully
Commitment to government services after graduation
Satisfactory academic performance and potential
Technical skills and experience (such as internship, cyber competitions, cybersecurity projects...)
Soft skills (such as leadership, communication, team work…) and experience
Ability to get high-level security clearance
Practical suggestions to strengthen your qualification:
Join the RedTeam if you are a Michigan Tech student
Participate in National Cyber League (NCL) and other cyber competitions
Find summer internships to polish your computer skills
Take cybersecurity courses and conduct cybersecurity projects
Take leadership roles in student organizations and community activities
Last but not least, study hard and get good grades
Underrepresented groups, including women, minorities, first-generation / low-income students, and persons with disabilities are strongly encouraged to apply.
Contact Us
The project PI is Professor Yu Cai from the College of Computing at Michigan Tech. The project coordinator is Mr. Thomas Cogswell.
Project co-PIs and other important personnel include Professor Jean Mayo, Professor Todd O. Arney, Professor Bo Chen, Professor Chee-Wooi Ten, Professor Kedmon N. Hungwe, and Dr. Laura Kasson Fiss.
If you have questions or comments, contact us at: sfs@mtu.edu