A Day of STEM is a new event hosted by the Center for Educational Outreach (CEO) that provides local 9th grade students the opportunity to explore science, technology, engineering and math (STEM) careers in a fun, hands-on way with a competitive twist. A Day of STEM in the Copper Country began in 2019 with a sponsorship from the Keweenaw Community Foundation.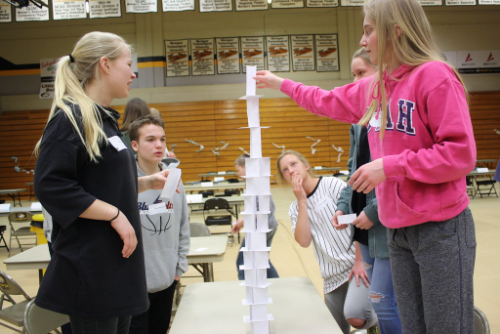 Approximately 200 students joined Michigan Tech undergraduate and graduate students as well as faculty and staff volunteers to compete in team-based STEM challenges. Students participated in challenges including making a pinball machine, building a waller coaster and quick challenges like making launching catapults, tallest card towers, and more!
Students also participated in a Michigan Tech Department Expo. Students met with representatives from over 20 different departments to ask questions about careers in STEM and different areas of study. College students also provided a student panel and discussed campus life, how to apply to college, how to pick a major, and other questions.
CEO hopes to continue providing this opportunity for students in our area. For any questions about this event, email us at ceo@mtu.edu.