Susanna D. Peters JD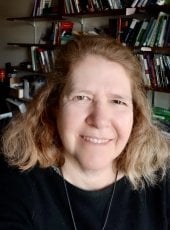 Contact
906-487-2391
Cell: 906-231-3630
Academic Office Building 219
JD, University of Pennsylvania, 1990
MS, University of California at Davis
Biography
Susanna Peters JD is the University Ombuds for Faculty, Staff and Students at Michigan Technological University. She is an experienced ombuds who is both an attorney and is a mediator in the State of Michigan who has focused on helping employees and students navigate their way through conflict throughout her career. She regularly works with staff, faculty, and administrators in conflict, coaching, facilitating conversations, mediating disputes, giving referrals, training, providing upward feedback, and making recommendations for positive change. She also serves on committees as an advisor on matters related to conflict management, equity and inclusion, ethics and civility.
In addition to serving as University Ombuds, Susanna Peters teaches and advises in the Law & Society program for the Department of Social Sciences. She teaches courses such as Civil Rights Law, Law & Society, and Internet Law.
Prior to coming to Michigan Technological University, Ms. Peters taught at Wayne State University School of Law, also worked as lawyer in California representing both plaintiffs and defendants in employment and other litigation matters, and also clerked in the Federal District Court in Detroit and Arkansas. In the local community she is on the Board of Directors for Keweenaw Family Resource Center, and the Copper Country Community Art Center.
Ms. Peters holds a bachelor's degree from the University of Michigan, a masters from University of California -Davis, and a Juris Doctor from the University of Pennsylvania. She has also completed the certification courses for organizational ombuds practitioners offered by the International Ombudsman Association.
Please contact her if you want a confidential conversation about any issue related to concerns involving your employment or educational experiences at Michigan Tech. She can help you find resources, and explain University processes or facilitate mediations or conversations with third parties with whom you are having conflict. You can call her at the office 906-487-2391 (please note that due to shutdowns due to Covid calls will be forwarded and she will call you back as soon as possible)
A few words about me:
First of all, please know I really welcome calls and emails from faculty, staff or students. I have been the Ombuds at Michigan Tech since 2015. My main job is to help you - if you are having a problem and are not sure where to go or what to do, you can at least discuss the options with me confidentially. Sometimes I will have suggestions on what you can do next and sometimes I can help you do that. But, no matter what, unless you or another person are in imminent physical danger, I will not raise your concerns with anyone unless you ask me to do so.
The Ombuds office is also informal, this means I don't keep files and don't report to a supervisor in this capacity unless you want me to do so. Indeed, you will find we can talk during the week or on weekends or evenings depending on your availability in an informal way. Right now, due to Covid, we can meet on zoom or just talk over the phone, so please feel free to reach out as a first step towards finding the best solution for you. Due to the covid shutdown the best way to reach me is via email at speters@mtu.edu or my office phone which will be forwarded (906-487-2391) if you are not comfortable using the MTU email phone you also call text me on my cell at 906-231-3630 and I will call you back.