Do you know Husky Innovate?
Well, you should! Simply put, we can help you build your ideas. Whether you just want to stop in for inspiration, or you plan to start your business after graduation, we give you the experiences you are looking for. We are Michigan Tech's innovation and entrepreneurship resource hub! If you want to learn more, we're here to answer all your questions.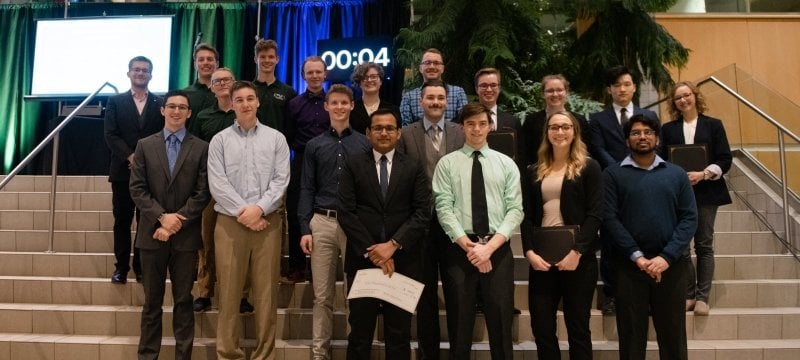 Announcing the Global Entrepreneur in Residence Program
The Office of Innovation and Commercialization, has launched a Global Entrepreneur in Residence Program. This program for international founders provides an opportunity for graduate students to develop their new venture while working in a part-time paid position. Students will scope existing technology opportunities and have a chance to work on their own startups while connecting with resources such as Husky Innovate, as well as local resources such as the MTEC SmartZone.
Exciting Fellow Opportunity: Customer Discovery & Product Development
Are you a passionate and driven student looking for a hands-on experience in the world of entrepreneurship? Entrepreneurship begins with understanding specific needs faced by specific individuals. While new developments may technologically superior to incumbent technology or enable new markets altogether, early-stage opportunities are resource constrained and must be efficient in technology development, customer identification, and intellectual property protections in order to make it to the marketplace. Join us and be part of our dynamic team, where you'll have the chance to make a real impact and shape the future of innovative products!
Innovating the Next Level of Michigan Tech
Whether you're just starting or you've been innovating for years, we help bring your innovative and entrepreneurial abilities to the next level. We give you the tools and knowledge to cultivate your innovative, creative, and entrepreneurial spirit across all the disciplines offered on campus. You'll have access to workshops, competitions, NSF I-Corps training, guest speakers, the Silicon Valley Experience, and other field trips. We are Michigan Tech's innovation and entrepreneurship resource hub!
---
We Invite You to Learn About Husky Innovate
Since 2015, we've worked to develop a University campus where the entrepreneurial mindset thrives throughout the community and across disciplines. The mission of our center is to harness the potential of the campus community to innovate through the creation of ideas, their development and implementation. Through an integrated ecosystem we offer cohesive resources to enable your success.
Husky Innovate is a collaboration between the Pavlis Honors College, the Office of Innovation and Commercialization, and the College of Business. Each partner brings a unique and valuable set of resources to our students.
We are a resource hub that hosts:
Competitions
Pop-up venues
We also connect innovators to mentors and opportunities for funding
Our aim is to build upon existing Michigan Tech resources to:
Facilitate the creation of learning environments
Engage our students, faculty, and staff in innovation
Develop the entrepreneurship mindset
Prepare students to embrace the challenges of the 21st century
Looking for ways to get involved? Sign up for our mailing list and get information sent directly to your inbox about upcoming innovation workshops, speakers, or other ways to excel your career.
---
Giving Opportunities
We value our Michigan Tech alumni, faculty and friends and are thankful that you want to give back. Your gift means a great deal to us, and we thank you for your generosity and commitment to the University's mission of preparing students to create the future.